What Happens if Sochi Runs Out of Snow? Here's Where Organizers Will Go.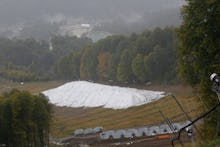 It's been widely reported now that Sochi, the host city of the 2014 Winter Olympics, is — well, less than wintry.
With temperatures well into the 60s, some athletes have been complaining about the state of the snow that they are competing on. Even in the Krasinaya Polyana mountains, where many of the snow events are taking place, the outdoor conditions are less than ideal.
But it's not as though the Sochi officials weren't aware of how warm the resort locale really is. In fact, two pre-Olympic test events had to be cancelled due to lack of snow and rainy weather. So how exactly did they transform the palm tree-laden Sochi into a snowy wonderland?
They took some measures that were extreme, though understandable: In order to generate enough snow for the games, the organizers created an elaborate network 550 state-of-the-art snowmaking machines. Two artificial lakes were constructed to supply enough water to the machines, and climate control technology was added to keep the temperature and humidity at ideal snowmaking conditions.
Still, they needed a fall-back plan in case the machines failed. So they came up with this incredible idea: just stockpile a ton of snow in the mountains. And by a ton, we mean 391,000 actual tons.
Over 710,000 cubic meters of snow have been stockpiled for the past two years and stored in insulated silos high in the mountains. That number is a rough estimate, since there is so much snow that not even Sochi officials know how much there exactly is. Now an untold amount is being shoveled into the race areas.
"I cannot tell you how much," said Aleksandra Kosterina, head of communications at Sochi. "I just don't know. I mean, I don't know the specifics, but I know that we did."
Sochi is not the first Olympic host city that has transported extra snow to maintain its race areas: back in 2010, unseasonably warm temperatures forced Vancouver organizers to airlift snow to ski courses to make sure the snow was nice and thick. But the striking thing about Sochi is the amount of snow it has collected, and for how long it has preserved the stockpile.
The thermal insulation material has reflected off the sunlight and has kept the snow relatively cool. The sight of silver blankets wrapping the snowy mountain has become its own tourist attraction, with curious sightseers trekking up to check out the snow storage.
Once the Olympics are over, Sochi organizers will just let the snow melt away — so enjoy this wintry landscape while it lasts: