Jerks Tried to Ban Brave Woman's Breast Cancer Photo Project From Facebook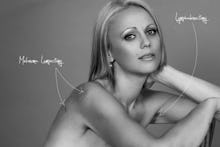 Beth Whaanga has been posting naked pictures on Facebook — but it's not for the reason you might think. On her 32nd birthday, Whaanga was diagnosed with breast cancer. When doctors discovered that the mother of four possessed a mutation of the BRCA2 gene — similar to the genetic factor that spurred Angelina Jolie to pen her New York Times op-ed about getting a preventative mastectomy — Whaanga underwent a double mastectomy, breast reconstruction surgery and a full hysterectomy within months.
The surgeries understandably took a toll on Whaanga's body. But rather than hide her scars, Whaanga decided that she wanted to show the world the physical havoc that cancer can wreak. She teamed with her long-time friend and local Brisbane photographer Nadia Masot to found the Under the Red Dress project, and posed for nude post-surgery photos in order to encourage others to practice self examinatons.
The social networking site has left the images intact, however, because their intent is clearly educational and not sexual in nature (although Facebook famously hasn't been so supportive of mastectomy patients in the past). As a disclaimer to the project, Whaanga wrote, "WARNING: These images are confronting and contain topless material. They are not in anyway meant to be sexual. The aim of this project is to raise awareness for breast cancer. If you find these images offensive, please hide them from your feed."
Hopefully her courage will prompt other women to take preventative measures. Breast cancer is the second leading cause of cancer death among women, but early detection has helped drop the death rate in recent years.
All images via Beth Whaanga's Facebook