Here's How You Do the Gold Medal-Winning YOLO 360 Flip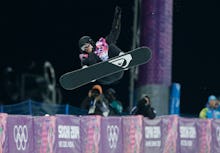 The news: American snowboarder Shaun White failed to medal at his half-pipe run in Sochi on Tuesday, ending his reign as the event's back-to-back Olympic gold medalist. He finished fourth behind silver and bronze winners Ayumu Hirano and Taku Hiraoka of Japan, while gold went to a Swiss hotshot named Iouri Podlatchikov.
Iouri is better known by his nickname, "I-Pod." And this is the legendary trick that sealed his victory:
It's called the "YOLO Flip." Yes, you read that correctly. It consists of a dazzling 1440 total degrees of spin, including "two head-over-heels flips and two 360-degree turns." And until last spring, no one in the world had ever landed it successfully.
When "I-Pod" completed the "YOLO" at the X-Games in March 2013, before losing his mind and hurling his board into the screaming crowd, Shaun White felt the pressure. Long recognized as the "best snowboarder in the world" and entering the Olympics as the favorite, White knew he'd have to seriously impress the Olympic judges to defend his consecutive gold medals at the Sochi Games. He even bowed out of another event, the new "slopestyle" contest, to focus exclusively on the half-pipe, much to the chagrin of fans.
Then came the moment of truth. White boldly attempted the "YOLO" during his final runs after reportedly nailing it twice during practice.
Unfortunately for him, the third time was not "the charm." He faltered on his landings, paving the way for one of the biggest upsets in Olympic snowbarding history.
Meanwhile, "I-Pod" landed the trick and went on to win gold. White took his loss good-naturedly, reportedly mussing Iouri's hair in a sort of fatherly "congratulations." It was a disappointing moment in the American snowboarding legend's career, but it seems appropriate that defeat would come at the hands of such a daunting and cutting-edge trick. Does this mark the final chapter of the Flying Tomato's Olympic ambitions? We'll have to wait until 2018 to find out.