What Michael Sam and Frank Ocean Being Gay Has to Do With American Masculinity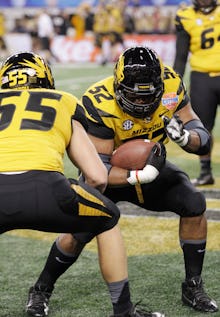 Updated February 27, 2014
Last year, an unusually prescient Snoop Dogg addressed the challenges facing a gay musician working in hip-hop by talking about pro sports:
"It's like a football team," he said. "You can't be in a locker room full of motherf**king tough a** dudes, then all of a sudden say, 'Hey, man, I like you.' You know, that's going to be tough."
He was talking about Frank Ocean, whom many doubted would be accepted in hip-hop after he came out. And on Tuesday, T-Pain revealed that he knew of producers who wouldn't work with Ocean for just that reason. Now, though, college football player Michael Sam is dominating sports coverage after coming out as gay, and many wonder if Snoop Dogg's hypothesis will come true.
In each case, the news is significant because both men work in traditionally hyper-masculine fields — hip-hop and football — that many have predicted will not accept gay men. But this only makes them all the more important: They are perhaps best able to be pioneers for LGBT rights because they are undeniably good at what they do. That's important because, in the last few days alone, there have been anonymous rumblings from each man's respective industry that they are going to keep getting shut out.
Image Credit: AP
Sam's Feb. 9th revelation sent sports pundits into a frenzy of trying to predict how this will affect his draft prospects. For sports fans who suffer in the wasteland between football and baseball season, we're used to seeing way too much of Mel Kiper, Jr. discuss how various scandals affect draft prospects. So in a lot of ways, this feels familiar. The big difference, however, is that unlike controversial players such as last year's Tyrann Mathieu, Sam hasn't done anything that brings his character or football skills into question; he just revealed his sexual orientation.
Technically, that shouldn't change any team's opinion of him, but apparently it might: Multiple general managers and other league officials have claimed, anonymously, that they think Sam has negatively affected his draft prospects by announcing he is gay.
So when T-Pain claimed just two days ago that Ocean, who came out two years ago, still isn't fully accepted in the hip-hop industry, it seemed like a bad omen: "I know niggas that will not do a song with Frank Ocean just because he gay," he said. It seems that Ocean and Sam are facing similar problems from similar industries.
I believe T-Pain, and those anonymous GMs might be right about Sam's draft status, but it's impossible to measure how much Ocean's sexual orientation limits his career, if at all. He may be missing out on opportunities to collaborate with other rappers and producers, but it's difficult to argue that he hasn't been successful because of his sexual orientation — his certified gold channel ORANGE and two Grammies indicate otherwise.
Like Ocean, Sam has so far been one of the best at what he does. He even won the Defensive Player of the Year Award in his final college season. Each man's excellence makes it difficult even for his biased industry to subtly discriminate. For example, Jason Collins came out last year, then went unsigned in free agency for almost 10 months. On February 23rd, he made history by signing a 10-day contract with the Brooklyn Nets and taking to the court against the Lakers, becoming the first openly gay player to play in any of the United States' top four sports.  He, however, had already had a long and undistinguished career, so it's hard to tell if teams waited so long to sign him because of discrimination, or because they didn't want an old, sub-par player.
(The press conferences after Collins's first game went a long way to prove the "locker room" distraction argument wrong; Deron Williams had this to say, "Maybe outside perception did [change], but inside this locker room it wasn't a big deal or a distraction. It was just another game for us … we're excited about having Jason.")
Image Credit: AP
Sam and Ocean will be fine because they are exceptional. But that only reminds us that the best measure for acceptance in both fields would be to have multiple gay players and musicians with a variety of abilities — some who are stars, others who are bench warmers. That would at least suggest that the industries are both primarily meritocracies as opposed to simply begrudging identifiers of the truly great. In the future, I would like to think it won't even be a headline when a player is gay, let alone a draft sports story deemed significant enough to rival Olympic coverage.
Realistically, though, we can't expect the NFL or the hip-hop scene to instantly accept gay players or musicians without hesitation, which is why pioneers like Sam and Ocean are so important. They are the first not only to have the courage to come out when they know it could be detrimental to their careers, but also the first to show that being gay and out doesn't affect their ability to succeed.