This Occupy Activist Could Go to Prison for Standing Up to the Cop Who Grabbed Her Breast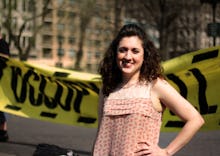 Cecily McMillan, 25, was beaten, suffered a seizure and has photographic evidence that she was sexually assaulted at the hands of the New York Police Department. But it is McMillan who began pre-trial hearings this week and is facing two to seven years in prison.
It's one of the last Occupy-related felony cases still in court. Officer Grantley Bovell says McMillan struck his face during an Occupy Wall Street protest two years ago. However, as jury selection is set to begin on March 3 in McMillan's felony assault trial, there's new information that casts doubt on the credibility of her accuser.
McMillan is a former Occupy activist, but her defense team says she was not in Manhattan's Zuccotti Park to protest when she arrived just after midnight on March 18, 2012. A demonstration marking the six-month anniversary of the movement was winding down. She was meeting friends and planned to head out from the park to celebrate St. Patrick's Day.
Police began violently dispersing the crowd. McMillan felt a hand grip her right breast from behind, and before she realized it was a policeman who had grabbed hold of her, involuntarily whipped out her arm and struck Officer Bovell in the face.
These photo's were taken at The Institute of Family Health in Manhattan, shortly after McMillan was released from NYPD custody, and sent out this week by supporters acting on her behalf. They show the injuries McMillan says were inflicted by Officer Bovell and those who assisted him in aggressively arresting her. Her legal counsel says the bruise on her right breast was left there by Bovell.
Image Credit: Cecily McMillan / Occupy activists
Minutes later, a group of NYPD officers stood over McMillan, whose hands were cuffed behind her, and watched as she suffered a seizure. Approximately 15 to 20 minutes passed before an ambulance took McMillan away. Bystanders captured video of the incident on their cellphones. 
The NYPD frequently used violent policing tactics during Occupy Wall Street, and activists have accused police of specifically targeting woman and people of color at demonstrations. In one notorious incident at the start of the protest movement, four women were penned and doused in the face with pepper spray during a march on Sept.24, 2011. 
Officer Bovell has been accused of brutality before. He was named in a lawsuit in the Bronx Supreme Court, filed by Reginald Wakefield, a young black man who was 17 at the time, that alleges the police maliciously used an unmarked police car as a weapon to knock him off his dirt bike in the course of a pursuit. In court filings, Wakefield said his nose was broken, two teeth were knocked out and his forehead lacerated following the encounter with Bovell and other officers on March 21, 2010. The suit is still active, according to court records.
Additionally, Martin Stolar, McMillan's defense attorney, disclosed to PolicyMic that he has reviewed documents linking Bovell to the 2011 Bronx ticket-fixing scandal. Some 500 officers were tied to the scam, but most lost no more than 30 vacation days as a result. A full list of officers involved is not publicly available, but the Manhattan District Attorney's Office was compelled to allow Stolar to review evidence pertaining to Bovell's trustworthiness since he is expected to testify.
"He was involved and internally disciplined," said Stolar, who could not legally reveal which specific documents he had examined, but said Bovell's lack of credibility would comprise part of McMillan's defense.
Stolar doesn't deny that McMillan struck the cop in the face. He simply insists hers was a natural reaction at having a sensitive body part grabbed unexpectedly by an unseen stranger.
"This officer got whacked in the cheekbone pretty good by Cecily's elbow," said Stolar. "He was injured, so therefore they say that constitutes felony assault. But in order to be convicted of the crime you have to do the act with a criminal intent."
The Manhattan District Attorney's office has so far refused to offer McMillan a plea deal, though Stolar says his client, who is not speaking to the press at this time, would decline such an offer even if it were presented, preferring to challenge the validity of the charges against her in open court. He regards his client's prosecution, one of the last Occupy-related felony cases still on the docket, as politically motivated.
"Cecily stands up for Occupy Wall Street," he said. "And it's for that reason she's being prosecuted. If she had not been an Occupy activist, this never would have taken place."