See Which State Produces the Most Winter Olympians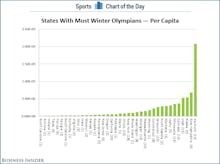 At the 2014 Winter Olympics in Sochi, 230 athletes are representing Team USA across a variety of events. Although they're come from the same country, these young men and women come from all around the country and represent their home state. But which state?
With an impressive 20 athletes, nearly 10% of Team USA hails from California, while Colorado and Minnesota follow closely behind with 19 each. In total, 38 states are being represented in Sochi. 
Image Credit: Washington Post
But the bigger states have a clear advantage in this category, namely: they're bigger. For example, New Hampshire has a population 3.53% the size of California's, so California is just more likely to have a chance of having more athletes. Instead, maybe a more accurate way to look at each state's athlete contribution would be the numbers per capita. And if we do that, it's a much different picture, with Vermont sitting pretty — one out of every 48,000 people in the state are on Team USA. New Hampshire is second with one out of every 147,000 people.
And while California was on top for overall numbers, they perform less well per capita — one out of every 1.9 million people in the state made the Sochi team. Take a look at where the rest of the states fall. 
Image Credit: Business Insider