10 States Where Love is Still Illegal if You're LGBT, But Won't Be For Long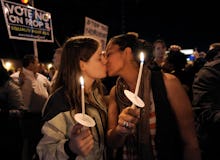 In 17 states and the District of Columbia, anyone — gay, straight, bisexual or otherwise — can celebrate Valentine's Day with complete freedom under the law. They can share a nice dinner at P.F. Chang's, get engaged or watch romping romantic comedies like Junior. Valentine's Day 2014 looks a lot different than it did a few years ago. 
However, gay couples in much of the United States are still waiting for the right to spend February 14 planning their weddings with the people they love. Though the restrictiveness of legislation banning same-sex unions varies across the country, here are 10 states where people in relationships still love in limbo — for now.  
1. Alaska
Alaska allows many fun things: polar bears, ice fishing and resigning the governorship to become a reality TV star. But since 1998, marriage in Alaska must be a union "between one man and one woman...to be valid or recognized."
In early 2013, Public Policy Polling, a U.S. polling firm, found that 43% of Alaska voters supported same-sex marriage. A year later, it's at 47%.
2. Arizona
If only all Arizonans were as open-minded as Charles Barkley. Arizona was the first state to vote against a constitutional amendment banning same-sex marriage in 2006. When the anti-gay and melodramatically-titled Arizona Marriage Protection, Proposition 102 came up for a vote in 2008, however, it passed.
In November 2011, a Public Policy Polling survey found that 44% of Arizona voters supported legalizing same-sex marriage. By April 2013, support grew to 55%. The constitutional ban in Arizona is currently being challenged in the courts. 
3. Florida
For the time being, a 2008 constitutional amendment banning gay marriage is the law of Walt Disney's land.
In March 2011, Public Policy Polling found that only 28% of Florida voters supported legalizing same-sex marriage. By January 2014, that number had almost doubled to 47%. That same month, a lawsuit challenging Florida's ban began working its way through the courts. 
4. Kentucky
Same-sex couples may finally be getting lucky in ... well, you get it. On Wednesday, a federal judge overturned part of Kentucky's 2004 constitutional ban on same-sex marriage. Gay marriages performed in other states are now legal in Kentucky, paving the way for full legalization. 
An analysis by the New York Times found that in 1994-1996, only 18% of Kentucky residents supported marriage equality, yet support rose to 31% in 2010. A February 2014 poll found support climbed again to 35%.
5. Missouri
University of Missouri defensive end and NFL prospect Michael Sam made headlines this week when he announced he is gay. A 2004 constitutional amendment prohibiting same-sex couples from marrying still holds, but Missouri and a slew of other states (see below) are host to American Civil Liberties Union (ACLU) lawsuits that could shift this. 
A September 2011 Public Policy Polling survey found that 32% of Missouri voters supported same-sex marriage. Less than a year later, that number grew to 36%. 
6. Montana
John Denver's muse has never been a hotbed for same-sex rights. Initiative 96 passed in 2004, denying gay couples the right to wed. Despite a 2009 domestic partnership bill proposal, same-sex marriage is still illegal in Big Sky Country.
Yet even in Montana attitudes are changing quickly. In November 2011, 37% of Montana voters supported legalizing same-sex marriage. By October 2013, that number was almost 47%.
7. North Carolina
The language behind North Carolina's Amendment One is so confining that some say the law could also deny rights to straight couples in domestic partnerships or legal unions. Nonetheless, some progressive cities and counties have stepped up to offer registries for gay couples.
In September 2011, 33% of North Carolina voters favored allowing same-sex marriage. Less than a year later, it was almost 38%. 
8. Pennsylvania
Ben Franklin died in Pennsylvania and so did a number of efforts to define marriage as a union between one man and one woman. But a 1996 statute prohibiting gay partnerships is the last time the state's policy on same-sex marriage was changed.
In November 2011, 36% of Pennsyvlanians supported same-sex marriage. By March 2013, it had grown to 47%.
9. Utah
Even Boy Scouts came out to support overturning Utah Constitutional Amendment 3. Passed in 2004, this legislation denied same-sex couples both the right to marry and other forms of legal family status. A federal district judge recently ruled the ban unconstitutional, a decision that is currently under appeal. This legal uncertainty did not stop State Senator Jim Dabakis from marrying his long-time boyfriend hours after Amendment 3 had been overturned.
Utah might be the state with the biggest reversal. In 2010, political scientists at Columbia University ranked the state last in the country in supporting same-sex marriage, with 22% of residents in favor. In January 2014, that number stood at 48% in support. 
10. Wisconsin
Though a referendum banning same-sex marriage passed the Badger State in 2006, former Governor Jim Doyle's 2009 budget expanded rights for people to enter domestic partnerships. While the American Civil Liberties Union of Wisconsin recently filed a lawsuit on behalf of four couples challenging the constitutionality of the 2006 amendment, Governor/Mystery Man Scott Walker says he does not see "significant movement" that would change the legislation.  
Yet that doesn't mean voters once again aren't changing their minds. In May 2011, 42% of voters favored legalizing same-sex marriage in Wisconsin. In October 2013, that number was 53%.
Valentine's Day is a good day to remember: Love wins out and there's no stopping where we're headed.