9 Beautiful Works Made by Artists in Love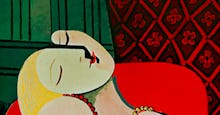 Diane Arbus once said, "Love involves a peculiar unfathomable combination of understanding and misunderstanding." Indeed, though we can't understand it, love has been behind some of the greatest works of art humanity has ever produced. From Baudelaire to Picasso, that feeling that tightens your stomach and trips your tongue has driven many an artist to madness — and through that madness has come some beautiful moments of genius. Here are nine pieces of art that were inspired by that crazy little thing called love. 
1. 'Leda Atomic' (1949): Salvador Dalí for Gala Diakonova
Russian-born Gala Diakonova was the wife of none other than Surrealist painter Salvador Dalí. The artist depicted Diakonova as an all powerful sex goddess in his bizarre, melting-clock environments, as well as a religious, saint-like figure. "Leda Atomic" depicts Gala as Leda, the mythological queen of Sparta, as created "in accordance with the modern 'nothing touches' theory of intra-atomic Physics." He would sign paintings inspired by her with his and her name. "It is mostly with your blood, Gala, that I paint my pictures," Dali said about his muse. 
2. 'Olympia' (1863): Édouard Manet for Victorine Meurent
This sultry painting was met with controversy when it was completed by French artist Édouard Manet in 1863. He chose to depict his muse Victorine Meurent, an artist and model as a prostitute with her maid. The controversy, oddly enough, was not fully caused by her nudity, their real-life love nor the presence of the fully-clothed maid, but rather was caused by the direct gaze of Meurent. 
3. 'Hands and Thimble' (1919): Alfred Stieglitz for Georgie O'Keefe
Georgie O'Keefe, one of the most influential and widely celebrated painters of the 20th century, was actually the muse for someone else. Photographer Alfred Stieglitz took this famous photo of his lover's hands in 1919, in testament to his love for her, and the epic genius those fingers could create.
4. 'The Dream' (1932): Pablo Picasso for Marie-Thérèse Walter
Marie-Thérèse Walter, the troubled muse of Pablo Picasso, was the artist's inspiration during his surrealist period. The genius Spaniard painted some out-there portraits of her, including this one "The Dream." Obviously, they had a different kind of love, but their bond was strong; four years after Picasso's death in 1974, Walter hung herself.
5. 'Dear Yoko' (1980): John Lennon for Yoko Ono
The Japanese avante-garde artist, peace activist and singer was John Lennon's obsession up until the iconic songwriters assassination in December 1980. During their time together the two were inseparable; in fact, many fault her attachment to John as one of the main reasons for The Beatles' break up. This cheery, celebration of a song from Double Fantasy was written about John's adoration of his love, perhaps sitting in some hotel room away from her and longing to return. 
6. 'The Woman in the Green Dress' (1866): Claude Monet for Camille Doncieux
The model for this painting by Claude Monet, Camille Doncieux, acted as the inspiration for many of the founder of French impressionism's works. Doncieux would marry Monet in 1870, on the eve of the Franco-Prussian War. They lived in poverty for most of their time together, until her death not soon after their marriage. Monet derived a ton of inspiration from her throughout their lives together, even opting to paint her on her deathbed. 
7. 'This Side of Paradise' (1920): F. Scott Fitzgerald for Zelda Fitzgerald
F. Scott Fitzgerald, most famous for The Great Gatsby, wrote this early novel about his turbulent relationship with his eventual wife Zelda. Though their relationship was often rocky, due to Fitzgerald's alcoholism and sudden fame and Zelda's mental instability, the artistic fuel that Zelda provided for Fitzgerald was palpable. He pulled some lines for Amory Blaine, the protagonist of the novel, directly from Zelda's diary. 
8. The Taj Mahal (1653): Emperor Shah Jahan for his wife
One of the world's most iconic pieces of architecture, and certainly the world's most famous mausoleum, this Indian symbol is visited by an estimated 3 million people a year, and was made entirely for love. Mughal Emperor Shah Jahan decided to have the structure built in 1653 as a testament to his wife, who had died giving birth to their 14th child. Considered one of the greatest of humanity's achievements, it remains a strong reminder of love's power. 
9. 'Poor Little Rich Girl' (1965): Andy Warhol for Edie Sedgwick
The self-destructive, gorgeous socialite Edie Sedgwick captured Warhol's fascination, if not his romantic love. (Though gay, Warhol said of Sedgewick, "The fascination I experienced was probably very close to a certain kind of love.") She starred in this 1965 film, a dramatization of how the real-life Sedgwick spent her entire inheritance in six months. Though only together for a year, Warhol was mystified by her charm, suavity and no-bars boldness.