A Gay Rights Organization Is Sending This Massive eCard "To Russia With Love"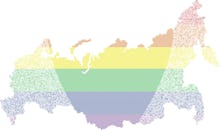 There is a dire situation of human rights abuse in Russia. Last year, the Russian parliament backed a bill to outlaw the "propaganda of homosexuality among minors," and it was soon after passed by the State Duma. The "anti-gay law," as it's since been called, uses purposely vague language to effectively restrict fundamental human rights and hinder international obligations to protect LGBT people from discrimination. 
There's no questioning this is a terrible law that is creating an extremely hostile for Russia's LGBT community, and despite an outpouring of criticism form the international community, it so far seems that the Russian government has little interest in changing its mind. So, in an effort to show Putin exactly how the world feels about the anti-gay laws, Amnesty International has teamed up with the Norwegian paper Dagbladet to create the To Russia With Love campaign.
It's a very simple idea: anyone can electronically sign a petition to "say no to abuse of basic human rights," and for every signature, a dot is added to a map of Russia with the eventual goal of filling out the entire picture. 
Image Credit: torussiawithlove.no
It's a simple, elegant and beautiful campaign, and one that's so far working quite well. Though only recently launched, the map has over 270,000 signatures (roughly 65% of the total goal), but that number's constantly climbing. 
This isn't the first campaign against Russia's homosexual propaganda laws, but hopefully its coinciding with the Olympics and highly visual nature will catch on enough to turn some heads. As it stands now, roughly 88% of Russians support the law banning "gay propaganda," but about 82% of them aren't even sure that "gay propaganda" does anything at all. Russia is a country struggling with this issue and has unfortunately gone too far to correct itself and ended up in a place of scared hate. Instead, maybe they just need some love.