8 Dictators Who Couldn't Resist Airbrushing Their Photos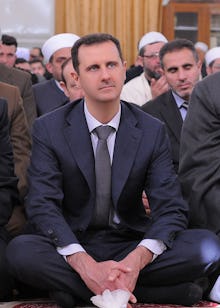 It takes a toll constantly being in the public eye, which may explain why photo manipulation is like catnip for authoritarian leaders. Here are eight photos that have been doctored — some better than others — to project that perfect combination of power, compassion and of course, youthful virility befitting of a true despot. 
1. Francisco Franco (1940)
Spanish dictator Francisco Franco looked a little sleepy with his eyes half-closed while walking with Adolf Hitler during this meeting in France (left), and needed some help looking sufficiently perky. In another official photo of the event, the Spaniard even appears taller relative to Hitler and wears a Spanish military medal, as opposed to the German Eagle he actually had pinned on his jacket that day. 
2. Chairman Mao (1964)
The iconic Mao portrait is so airbrushed it hardly even looks like a photograph. According to the Metropolitan Museum of Art, the photo was "painstakingly retouched to project an image of flawless benevolence."
3. Hosni Mubarak (2010)
Hosni Mubarak trailed President Barack Obama and Israeli Prime Minister Benjamin Netanyahu in one photo of the launch of Middle East peace talks in 2010 (left). But the placement of the former Egyptian ruler wasn't commanding enough for state-controlled newspaper Al-Ahram, which released an altered version with Mubarak at the front of the group. What remains unclear is why Mubarak would lead a U.S. president through the White House in the first place.
4. Bashar al-Assad (2012)
Assad was positively glowing in an official photo (left) released in 2012 showing the 46 year-old Syrian leader at a ceremony commemorating the birth of Mohammad. If his strange neck coloring and freakishly smooth cheeks aren't enough to raise suspicions, a side-by-side comparison with another photo taken in 2010 suggests that Assad is probably not quite as preserved as the Syrian government would have you believe.
5. Robert Mugabe (2013)
Pushing 90 years of age, Robert Mugabe is one of world's oldest heads of state. So it is perhaps unsurprising that when his reelection campaign plastered Zimbabwe with posters last year, they chose a photo (left) that appears to have been taken around the beginning of his 33-year reign. It is certainly an impressive feat holding on to power for so many decades, and as more contemporary photos of Mugabe demonstrate (right), one that is bound to leave a wrinkle or two.
6. Mahmoud Ahmadinejad (2013)
Last March, Ahmadinejad was photographed consoling Hugo Chávez's mother at the Venezuelan president's funeral, which Shiite clerics immediately condemned due to the physical contact between the Iranian president and an unrelated woman (right). Some of Ahmadinejad's allies responded that the photo was digitally manipulated to smear the president and that he had actually been comforting Chávez's uncle, not mother. A photo was then circulated showing Ahmadinejad embracing an elderly man who, as it turns out, was not some anonymous Venezuelan, but well-known Egyptian diplomat and future vice president Mohamed ElBaradei (left). 
7. Kim Jong-un (2013)
Had Kim Jong-un wanted to appear on the surface of Mars, instead of floating in front of this children's hospital, the use of Photoshop would have made more sense. But was it really easier to superimpose him, as many suspect, as opposed to just walking outside and doing the shot for real?
8. Fidel Castro (2014)
Using a hearing aid at age 87 is pretty unremarkable, but that didn't stop the Cuban government from distributing photos of Fidel Castro with a thin cord erased from the aging revolutionary's ear. The AP is now reviewing the scores of official photographs it has received from the Cuban government over the years for evidence of additional tampering.