There's a Weird Obsession With Disaster Porn Photos After a Snow Storm Hits the South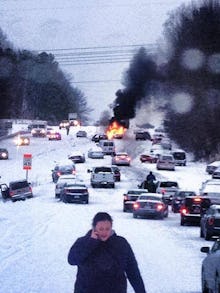 As snow pounds the South, a slew of disaster porn pictures are hitting the rest of the country. And they're pretty intense.
This is what Glenwood Avenue looked like in Raleigh, N.C., a picture that made it to the top of Reddit and has since gone viral across social media:
Image: Imgur
Some news sites have run with the picture, turning it into a snowpocalypse montage, a collection of the worst of the worst pictures.
They did the same last month when another snow storm swept through the region. Stories analyzed "Why the South Fell Apart in the Snow" and asked "Why Can't Southerners Drive in Snow?"
Courtesy of Redditor bat2c, this compilation of photos of your fellow Americans in trouble pretty much sums up the trend of mocking the South for getting caught in a natural disaster. Here's what Birmingham, Ala., looked like last last month:
Images: Imgur
It's easy to see why people are laughing. The joke is snow, and the punchline is dumb Southerners who don't know what to do with it. But while the internet has the luxury of looking on from afar, the South actually has to live through it.
By Thursday morning, 14 deaths had been reported across the mid-Atlantic region and hundreds of thousands were without power. A total of 800,000 customers don't have electricity across the South, including 344,000 in Georgia alone. Snowfall in the double digits hit many regions for the first time in 26 years. A state of emergency has been called in Georgia, North Carolina, and South Carolina, while national airports in D.C. have cancelled flights and shut down their runways.
While Atlanta has fared better than last time thanks to Gov. Nathan Deal declaring a state of emergency and keeping most drivers off the roads, other cities like Raleigh and Birmingham obviously are faring worse.
Image: AP
As POLITICO's Rebecca Burns pointed out, these snowy disasters following in the wake of what looks to people from higher latitudes like pretty mild snowfall are due to a unique confluence of factors, and "dumb Southerners don't know how to drive in snow" isn't one of them. When Atlanta roads were paralyzed by snowfall in late January, it was due to over 1 million Atlanta-area drivers hitting the road at once in an attempt to beat the snow. Local mass transportation like MARTA only serves the city and two adjacent counties (and improvements had been shot down in a 2012 referendum), so workers really had no alternative.
A similar thing happened in Raleigh this week. Commuter Soo Keith says, "I know how to drive in the snow. But this storm came on suddenly and everyone was leaving work at the same time. I don't think anybody did anything wrong; the weather just hit quickly."