The Story Behind How This Speedskater Won a Gold Medal is Hilarious and Amazing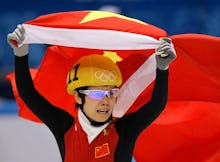 On Thursday, China's Li Jianrou won the gold medal in women's 500-meter short track speedskating event after an impressive performance that boiled down to one key factor: she didn't fall. 
On the third turn of the opening lap, Elise Christie of Britain clipped leader Park Seung-hi of South Korea taking them and Italy's Arianna Fontana all down in a rough wipe-out. Li, who was in fourth at the time, avoided the spill, surged into first and didn't look back. With a large lead, Li skated fairly conservatively but still finished with a time of 45.263, a six-second margin of victory over silver medalist Fontanna who finished with 51.250. Christie actually finished in third, but was disqualified for causing the crash. Park, with a final time of 54. 207 won the bronze.
Li and one of her coaches cried after the win. "I feel very lucky," Li said through a translator. "I cried because I was so excited. My coach told me this medal is for Wang Meng as well, so I felt very moved." Wang Meng has represented China in the past two Olympics in this event — winning gold each time — but was sidelined by an injury, allowing Li to take her place. 
Park, who was in the lead from the start, was hoping to give South Korea its first win in the sport, but her hopes were derailed by Christie's aggressive play. "It is such a great disappointment," Park said through a translator. "But it is also part of my destiny. I have to accept it."
This isn't the first time a crash like this has resulted in the fourth-place skater walking away with the gold medal. At 2002's Winter Olympics in Salt Lake City, Steven Bradbury won the 1000-meter speedskating gold medal after a crash took down the three skaters ahead of him — it was also kind of hilarious.