Legendary Figure Skater Evgeni Plushenko Withdraws From Men's Event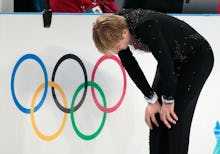 An unusually dramatic night by even figure skating standards began with the shocking withdrawal of two-time Olympic gold medalist Evgeni Plushenko from the men's short program. Plushenko led Russia to its first gold medal of the Sochi Games in the team event, where he set himself up as a contender for a fourth individual Olympic medal. He complained of pain shortly after skating his team event long program, but he resolved to fight through and skate in the individual event.
Plushenko had difficult practices over the last two days, and he didn't even jump during his Thursday morning session. A rough landing on a jump in his short program warm-up practically silenced the enthusiastic crowd in the Iceberg Palace. When it was time to begin his program, Plushenko skated over to the officials and withdrew. The crowd gave him an enthusiastic farewell, but there was palpable disappointment in the arena. Plushenko was Russia's only participant in men's figure skating, and his absence means Russia will not be able to medal in all five figure skating events.
Plushenko's withdrawal will no doubt cause controversy over the coming days. Many will point to his earlier comments about only wishing to state in the team event. Others will question the decision to send an injured skater to the Olympics over young, healthy National Champion Maxim Kovtun. Regardless of the drama, there is no denying that Plushenko is a legend of the sport, and he will certainly be missed.