Hawaii Just Became the First State to BAN This Everyday Shopping Item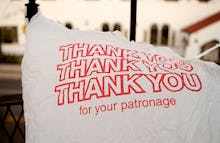 Plastic trash has always been a huge environmental problem, especially when the ocean is involved. But few states have seen the impact of maritime pollution quite like Hawaii. Now, Hawaii has become the first state to officially implement a ban on plastic bags at checkout counters.
"Being a marine state, perhaps, we are exposed more directly to the impacts of plastic pollution and the damage it does to our environment," Sierra Club of Hawaii director Robert Harris, said in 2012.
On Jan. 17, a ban on retail plastic bags on the Big Island went into effect. Kauai and Maui already enforce a ban, while Oahu (the most populated island, home to the city of Honolulu) will join them in July 2015.
Customers will be expected to either bring their own reusable bags to local shops and restaurants, or use paper ones provided by the establishments. Bulk items like meat, grains, or fresh produce will still come in plastic bags, but other items will be put in a paper or reusable bag. It won't be a massive adjustment to customers, since stores on the Big Island have been charging extra for plastic bags for the past year.
"This is groundbreaking. By signing this environmentally friendly bill, Honolulu joined our neighbor island counties," said Honolulu Mayor Peter Carlisle when he signed Oahu's ban. "Hawaii has become the only state in the United States where every county has plastic bag legislation."
Hawaii does not have a statewide ban on plastic bags, but rather a plastic bag ban either in effect or in the early implementation phases in four of its five counties. (Kalawao County, the only county not to enact such an ordinance, is largely unpopulated, accessible by land only via mule trail). No other states have such a de facto ban on plastic bags in effect, though cities do — as LiveScience has noted, Los Angeles, San Francisco, Santa Monica, Portland (Oregon), and Washington, D.C. have bans as well. Countries like Italy, Belgium, Ireland, Switzerland and Germany either tax the bags or impose a small fee on them.
Hawaii's Surfrider Foundation says that the plastic bag ban could be just one step. If the state imposes a fee for paper bags, the Foundation says consumption of disposable products would fall even farther.