9 Famous BFFs That Prove All You Need In Life Is Your Best Friend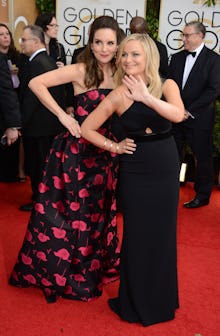 Leslie Knope knows romantic love isn't the only love worthy of a billion-dollar industry holiday. That's why our favorite Parks and Rec character created Galentine's Day, the annual Feb. 13 event that's all about ladies celebrating ladies. 
Image Credit: Pretty Much Awesome
But don't worry if you missed the official day: There is still plenty of time to lavish your female friends with love and adoration to show them how much their support and encouragement means to you.
Here are our nine favorite celebrity besties whose close-knit relationships make our hearts burst with feels!
1. Tina Fey and Amy Poehler
These two comedic actresses met back in 1993 at an improv class in Chicago and have been BFFs ever since. Their chemistry proved phenomenal when the two worked on SNL, particularly their Sarah Palin/Hillary Clinton impressions, and when hosting the 2008 Emmy Awards and the 2013 and 2014 Golden Globe Awards. Poehler appeared in Fey's Mean Girls, and the duo starred together in Baby Mama. 
Fey's book, Bossypants, even includes a chapter dedicated to Poehler called "I Don't Care If You Like It (One in a series of love letters to Amy Poehler.)" Of Fey, Poehler has said, "She's the same way back then as she is now, which is really, really funny and incredibly hard-working and a very supportive and loyal friend. But she was a lot less rich. That was the only difference: She was like 100 percent less rich."
2. Gayle King and Oprah Winfrey
Every day is Gaylentine's day for Winfrey, who has been besties with King for some 30 years. "She is the mother I never had. She is the sister everybody would want. She is the friend that everybody deserves. I don't know a better person," Winfrey tearily told Barbara Walters in 2010 (after false rumors cropped up that the two were so close they were lesbians). Beyond their friendship, the duo has a professional relationship: King is an editor-at-large for O, The Oprah Magazine and has also worked as a special correspondent for The Oprah Winfrey Show. 
3. Maya Rudolph and Kristen Wiig
Rudolph and Wiig's real-life friendship helped make 2011's Bridesmaids a hit, adding depth and nuance to the comedy's storyline about changing female relationships. The two starred together again in Friends With Kids the following year. "I love when she laughs ... I just love her so much, and I know she loves me," Rudolph told Katie Couric last May, adding that the two call each other "gull" and use funny voices and accents on the phone.
4. Gloria Steinem and Marlo Thomas
These two feminists and activists have been making waves side by side for more than 40 years, having first met during the women's rights movement in the '60s and '70s. "Gloria became not only my new friend, but also my touchstone on the many issues that were starting to confront us on the front lines of feminism," wrote Thomas, an actress and producer, of her "soul-sister." They continue today to champion the women's movement together, speaking on topics like sexism, the wage gap and why feminism is still relevant in today's culture. 
5. Sandra Bullock and Melissa McCarthy
The goofy actresses first met on the set of their comedy The Heat, and hit it off immediately, bonding over their kids and home renovation. Of being introduced to Bullock, McCarthy says, "The first time I talked to her on the phone, I thought, I kind of love her, like I hope this isn't going to take a weird change ... We had a weird thing where no matter what I said to her, I knew she didn't take it personally and she'd throw it back."
According to director Paul Feig, the pair became "inseparable ... Normally after movies, those friendships go away. Theirs blossomed." The two have nothing but kind words and praise for each other, and even went trick-or-treating this past Halloween dressed as fishermen. 
6. Jennifer Aniston and Courteney Cox
From Friends to friends, Cox and Aniston have nurtured a loving and supporting relationship for two decades. The BFFs vacation and celebrate birthdays together, but they've also been by each other's sides through heartache as well, including through Cox's divorce from husband David Arquette and Aniston's divorce from Brad Pitt.
There are always tabloid headlines proclaiming a rift in their close friendship, but the pair has proved fiercely loyal to each other. Of Cox, Aniston has said, "I've slept in her guest bedroom a lot. Without giving away too much of my private stuff, all I can say is she's been there for me through thick and thin. There's absolutely no judgment in Court. You'll never feel scolded. She's extremely fair, ridiculously loyal and fiercely loving."
7. Ella Fitzgerald and Marilyn Monroe
Touring in the '50s was rough for singers of color, including Fitzgerald, who was hassled and even arrested just for being black. But many of her friends, including Monroe, took a stand against such discrimination. "I owe Marilyn Monroe a real debt," Fitzgerald remarked. "It was because of her that I played the Mocambo, a very popular nightclub in the '50s. She personally called the owner of the Mocambo, and told him she wanted me booked immediately, and if he would do it, she would take a front table every night ... She was an unusual woman, a little ahead of her times. And she didn't know it."
It wasn't a one-sided friendship either; it has been rumored that Monroe studied Fitzgerald's music for vocal practice.
8. Penélope Cruz and Salma Hayek
9 Famous BFFs That Prove All You Need In Life Is Your Best FriendWhen Cruz moved from Spain to Hollywood in the late '90s, Mexican-American actress Hayek picked her up from the airport, showed her around LA and took her under her wing. The two bonded over their native Spanish language and became inseparable.
They first worked together on-screen in 2006 action comedy Bandidas (sparking gossip that they were lesbian lovers, as seems to be standard among close female friends). When Cruz was nominated for her first Oscar in 2006 for Volver, co-announcer Hayek shouted "Yes!" upon hearing her BFF's name in the Best Actress category.
About her bestie, Cruz has said, "I love Salma Hayek, we've been friends for a really long time. I admire how she has come such a long way and always remained grounded and who she is. She never compromises to follow her vision and she is loyal. Such qualities only mark the great stars." 
9. Hillary Clinton and Meryl Streep
"Never give up. Never, never, never, never, never give up. That is what Hillary Clinton embodies." Streep spoke these words to honor and introduce friend Clinton at 2012's Women in the World Summit. In admiration of the Secretary of State, Streep compared herself to Clinton, saying, "I find a lot of similarities. We're roughly the same age, we both have two brothers ... we both grew up in middle-class homes with spirited, big-hearted mothers who encouraged us to do something valuable and interesting with our lives. We both went from public high schools to distinguished women's colleges ... We both went on to graduate school at Yale." The ultimate dream team made headlines later that year when they snapped some selfies at the Kennedy Center Honors gala.