Facebook Just Created 50 New Gender Options For Users to Choose From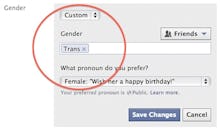 Facebook has thrown the gender binary out the window. A Thursday update added about 50 different terms which users can use to describe their genders as well as three options for pronouns: him, her, or their.
The update has already rolled out for each of Facebook's 159 million monthly users and is targeted at those who felt alienated by the company's restrictive prior policy. Previously, a user could only select male, female, or a "hidden" neutral option — not exactly welcoming. Androgynous, bi-gender, intersex, gender fluid, or transsexual users will now be able to select a gender identity for their profile that makes sense to them.
"There's going to be a lot of people for whom this is going to mean nothing, but for the few it does impact, it means the world," said Facebook software engineer Brielle Harrison, who worked on the project and is herself a trans woman.
"All too often transgender people like myself and other gender nonconforming people are given this binary option, do you want to be male or female? What is your gender? And it's kind of disheartening because none of those let us tell others who we really are. This really changes that, and for the first time I get to go to the site and specify to all the people I know what my gender is."
Of course, though not all transgender people identify their genders as anything other than male or female, many who do will appreciate the multiplicity of options. According to the Williams Institute, approximately 700,000 people in the United States are transgender. 
"Over the past few years, a person's Facebook profile truly has become their online identity, and now Facebook has taken a milestone step to allow countless people to more honestly and accurately represent themselves," said Chad Griffin, director of the Human Rights Campaign. "Facebook's action is one that I hope others heed in supporting individuals' multifaceted identities."
Flags flying LGBT rainbow colors hung at Facebook's headquarters to commemorate the decision.