'90s High School Rom-Com Crushes Who Will Make You Thankful to Be Single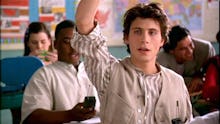 Ah the '90s. A time for high school hallway romance, at least where fluff-filled, stay-in-on-a-Friday-night, romantic comedies were concerned. The plots? Pretty standard: Romance at [insert location] High and the crooked path to true senior year love. The nice button-down guys almost always won in the end, but the douchey guys in the fitted tees were road blocks for every leading lady — and just so much hate-filled fun to watch. 
So this Valentine's Day, rather than putting your single self through one more night of falling in love with the Noah Calhouns of the world, try falling in hate with the crappy high school boys who in a far crueler world (with, you know, blurred lines between fiction and reality) you could be dating. Let's check out our options, shall we?
1. Joey Donner, '10 Things I Hate About You'
His stats: Padua High hot shot. Loaded. Model with rumored tube sock ad coming out.
2. Elton, 'Clueless'
His stats: Most popular guy at Bronson Alcott High School. He's, like, social director of the crew. Owns a Cranberries CD.
3. Mike Dexter, 'Can't Hardly Wait'
His stats: Huntington Hills High's douchiest jock. Just broke up with Amanda Beckett.
4. Steve Stifler, 'American Pie'
His stats: Lacrosse player. East Great Falls High's resident asshole and womanizer. Has a MILF for a mom. 
5. Guy Perkins, 'Never Been Kissed'
His stats: South Glen South High School's most popular hottie. Plays guitar. Creepy smile.
6. Brock Hudson, 'She's All That'
His stats: Dyslexic volleyball player. Used to be on Real World. Semi-dating Taylor Vaughan. Loves to dance.
7. David Wooderson, 'Dazed and Confused'
His stats: Used to be the Lee High School stud, now works for the city.
Now, seriously, aren't you glad to be single?