The 10 Most Romantic Punk Songs of All Time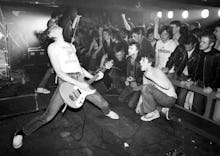 You wouldn't think there was much room for intimacy in punk rock. After all, punk is more or less a culture predicated on aggressive rebellion. And romance sort of isn't about that.
But actually punk is an emotional music in every way, and it's given us some of the greatest love songs of all-time. Here are some of the greatest — and most surprising — punk rock love songs ever:
1. "I Wanna Be Your Boyfriend" by The Ramones
The classic. There's nothing complicated about this seminal track, which sets the tone for punk romance tunes to come and even inspired some loving tributes. All in all, it's a light-hearted, summery punk rock affair.
2. "Lover's Rock" by The Clash
The Clash were much more than a punk band. While London Calling transcended the genre sonically with its ska and jazz influences, it also offered up this poignant little gem. "You must treat your lover girl right," sings Joe Strummer, reassuring punks everywhere that it's okay to care.
3. "Ever Fallen In Love (With Someone You Shouldn't've)" by The Buzzcocks
With this song, The Buzzcocks (again, what a name) introduced a remarkably challenging vision of love to the '70s punk scene. At first it seems an utterly vitriolic denouncement of someone you never should have loved. But, as The Buzzcocks point out, breaking up is still a drag.
4. "Baby Baby" by The Vibrators
This is the only song by The Vibrators to hit the UK Top 40. But even now their catalogue is worth a look. "Baby Baby" off their well-received debut, Pure Mania, is as sunny as '70s punk gets, with bright guitar arpeggios and the earnest refrain, "Baby, baby / Won't you be my girl?"
5. "Love Song" by The Damned
Again, the unexpectedness of a love song from a band with a name like The Damned only makes the pay off sweeter. Singer Dave Vanian and his cohort have gone through many iterations over the years, but in 1979 they were still well-rooted in the London punk scene. "Love Song" is a noisy number with a breakneck pace well-matched for Vanian's sweet and unfiltered poetry.
6. "Marriage" by Descendents
The title of Descendents' debut album Milo Goes to College is autobiographical; lead singer Milo Auckerman really did go to school soon after to study biology. "Marriage," with lines like "I want to be your friend / I want to be with you / I want you to marry me," has all the typical signs of youth: unbridled energy, a proud yet charming swagger and confused, impulsive romanticism.
7. "Punk Rock Love" by The Casualties
The Casualties have never been known for their subtlety, and this track is no exception. But it's become a favorite, thanks in part to its spot-on account of a punk-scene romance. Though hearts may be broken, in the end, it's always possible to get yours back.
And, like a lot of scene romances, the song is extremely short.
8. "I Have A Date" by The Vandals
It's fitting that The Vandals swiped their most romantic song from another band, the relatively unknown Simpletones. Seriously, could a group of guys who titled their album Live Fast, Diarrhea even handle meaningful relationships? Somehow, though, they managed to pull off "I Have A Date," expertly channeling the exuberance of young love.
9. "At The Library" by Green Day
Way back in the old days, before Green Day became the symbol of all things Punk hates (well, most things), the group released this quaint little number about a boy who's just not quite brave enough to approach his crush. It's a timeless tale that rings truer than any of the empty political statements of the band's more recent years.
10. "Punk Rock Girl" by The Dead Milkmen
Sometimes humor is the quickest road to the truth. This late '80s classic lovingly skewers the culture that influenced it, and as its characters drive stolen cars and laugh at others' music tastes, the song also becomes a rather endearing love story in its own right.