Haunting Photos Of Sarajevo's Abandoned Luge and Bobsled Track 30 Years Later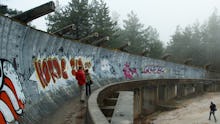 We are now halfway through the 2014 Sochi Olympics, and now is as good of a time to ever to ask: What will happen to the most expensive Olympic venue in history once the games are over?
Russia has poured $51 billion into transforming the tropical town of Sochi into a winter wonderland. It hopes to maintain much of the venue as a tourist resort, where people can check out the surrounding town and practice sports. But if previous Olympic venues are any indication, Sochi may fall into disuse very soon (the 1980 Moscow Olympic Village doesn't look that great anymore either).
After all, it's hard to maintain the high interest in winter sports once the Olympics are over. While skiing and skating are commonly popular sports, others such as luge and bobsled are niche interests that won't fare as well once the spotlight is gone. If tourist interest cannot sustain their maintenance costs, these courses may well shut down.
An interesting predecessor to consider is Sarajevo. The 1984 Olympics in the former Yugoslavia was the last time that the Winter Games were held in Eastern Europe. Both luge and bobsled were popular at the time (with 20,000 spectators for luge and 30,000 for bobsled), and the track was actually used for a few years afterwards for World Cup competitions.
Image credit: Flickr
Image credit: Flickr
But once the Yugoslav wars broke out in 1991 and reached the city, the sports had to be suspended. During the Bosnian War and the Siege of Sarajevo, the track was heavily damaged by the conflict. In fact, it was even used as a defensive artillery position by the Bosnian Serbs, with guerrilla fighters turning it into trenches. (On a more grisly note, the medal podium was used as an execution site.)
Image credit: Flickr
Since then, the track has fallen into disuse and disrepair. But it has become an attraction for graffiti artists, who have been complementing the bullet holes with their artwork.
Image credit: Flickr
Image credit: Flickr
Image credit: Flickr
Image credit: Flickr
Image credit: Flickr
Image credit: Flickr
Now the former Olympic venue has become an urban attraction, where tourists can experience both the damage from conflict and the recovery and reappropriation of the land by artists. (But if you are planning on a visit, watch out — there may still be live land mines in the area.)
Image credit: Flickr
The rest of the Sarajevo Olympic venue has also turned into a spooky memorial to war and history. You can check out more photos here.