Yuzuru Hanyu Had an Absolutely Perfect Olympic Performance Yesterday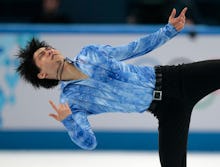 During the short program portion of the men's figure skating competition last night, Japan's Yuzuru Hanyu made Olympic history. Stringing together a huge quadruple toe loop to open the program and his triple lutz-triple toe combination, Hanyu is the first figure skater ever to score above the coveted 100-point threshold — he earned a final score of 101.45 in a routine that felt absolutely perfect. 
"I was so surprised with my score," Hanyu said. "I didn't know I got over 100."
A combination of speed on the ice, height off the ice, tight spins and total conviction to ever move resulted in a routine that, even to the untrained eye, looked far above most of the other competitors.
"For Yuzuru, that was perfection," said his coach, Brian Orser. "That's as good as it gets."
Hanyu's routine gives him a 4-point lead over three-time world champion Patrick Chan of Canada who finished with a 97.52. Spain's Javier Fernandez was third with 86.98. These scores will be combined with Friday's free skating scores to determine the medal winners, so although Hanyu's 101.45 point routine was spectacular, he still has some work to do. 
"Four points in singles men's is not much," Chan said. "I like being in second. I like being in the chase. It's exciting to me."
And unless there's a major shake-up in the standings, history could be made in another way with the final results — no man from an Asian nation or Canada has ever won Olympic gold in figure skating, and Spain has never won any Olympic medal in figure skating. Based on the current standings, at least one of those things could change. 
Russia's Evgeni Plushenko, a long-time favorite and highly decorated skater, withdrew from the competition due to insurmountable injuries and later announced his official retirement. When his named was called to compete, Plushenko stepped onto the ice, waved to his home crowd and then withdrew.
"Today in the morning, I can't jump … but I said to myself, 'Evgeni, you must skate. You must. You need two more days, the short and the long program,'" Plushenko said. "And I came on the warm-up and … I felt it, like knife in the back.
"I think it's God saying, 'Evgeni, enough. Enough to skate. You did a lot of figure skating,'" Plushenko added.