Hey New York! Help This Artist Find the #MissingLove She Saw on the Subway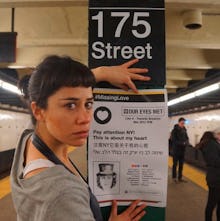 New York artist Luisa Portuondo Vila is convinced that she met the love of her life on the train. The only problem is, she had to get off before she could make her feelings known.
But believing in the power of fate and the spirit of Valentine's Day, the 30-year-old artist has made posters that mimic well-known MTA planned service changes to draw attention to her plight. The fliers, which she calls "action art," read: "Pay attention NY! This is about my heart."
Image Credit: Xavier Moran 
Vila has assured the media that her posters are completely sincere. "I saw this boy in the subway and he was really beautiful," she told Gothamist. "I wanted give him a drawing with my mail and web page but when I [got] close to him a lot of people [were] getting into the wagon and I lost him. It was my moment!!!"
Designed by Andy Dockett, the posters detail the time, date, train and direction that Vila was going in when she first glimpsed her commuter crush, along with descriptions of both him and her. Although the run-in was back in November, Vila seems confident that she still might find her mystery man.
While some of the stunts that jaded New Yorkers see in the subway feel contrived and calculated, there's something innocent about Vila's commitment to this quest that's striking a chord — especially with all the Valentine's Day vibes permeating the snow-ridden city. It's a long shot, but if Vila finds her mystery man and he returns her affection (or even remembers her), it'll definitely melt a lot of hearts!