Tinder Has Seen a 400% Day-Over-Day Increase of New Users in Sochi Since the Olympics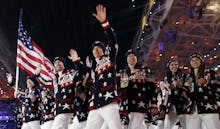 U.S. snowboarder and gold medalist Jamie Anderson made waves on Monday when she revealed the favorite pastime of athletes in the Sochi Olympic Village: "Tinder in the Olympic Village is next level. It's all athletes! In the mountain village it's all athletes. It's hilarious. There are some cuties on there," she told Us Weekly. In fact, she added, she had to delete the app because it was distracting her from the competition.
Well, it turns out she was not exaggerating. According to Tinder founder Sean Rad, the app has seen a 400% day-over-day increase of new users due to the Olympics. "We didn't have a lot of activity in Sochi before the Olympics," he told the Wall Street Journal. But in the last week, the village became "one of those areas for us that have great penetration and usage," he said.
Tinder, which was released in 2012, posts a user's name, age, photo and interests, and allows other users to swipe right to indicate interest and swipe left to pass. If both parties are interested in each other, they are invited to chat via message.
Similarly, Grindr — a hookup app for gay men — has also seen a spike in usage in Sochi due to the Olympics; while there were 185 Grindr users in the town before the Winter Games, the number has since reached 541.
While there is no telling how many of the new Tinder and Grindr users are Olympic athletes — after all, there is also a high concentration of journalists and attendees — the influx of gorgeous, physically perfect Olympians certainly couldn't have hurt the dating pool. And if the 2012 London Olympics and its record-breaking 150,000 used condoms are any indication, behind-the-scenes hookups may well be another Olympic sport.
Here's to hoping that these apps help our Olympians find some love this Valentine's Day.