In One Historic Act, This Model Diversified What Beauty in the Fashion Industry Looks Like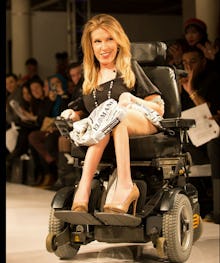 New York Fashion Week might not immediately come to mind as a place that celebrates diverse depictions of women, but one designer has decided to change all that.
Thanks to her creative and disruptive approach, Carrie Hammer made fashion week history by booking Danielle Sheypuk, a clinical psychologist from New York, to power up the runway. Hammer, whose aim was to "cast role models not runway models," gives female empowerment a prominent role in her artistic vision. In an email to Maggie Freleng at Women's eNews, the designer said, "It is so important to me that women have a positive body image and are empowered in work and their life. My line makes dresses to fit women. We don't make dresses that women need to fit into."
Image Credit: Carrie Hammer. "Let's be sure that we are empowering them rather than demoralizing them." — Carrie Hammer 
Wait, so there are people in fashion who want to make me feel BETTER about my body? Now that's revolutionary.
Image Credit: Carrie Hammer
Following her catwalk, the stunning model told Women's eNews that representing diversity is very important to her. 
"I was just another model in a show, and that's exactly what I wanted," she said. "People with disabilities need to see it. It's a confidence booster. It's like, 'if she's doing it, I can do it. Who cares about my wheelchair?'"
Image Credit: Carrie Hammer
Hammer hopes this will set a precedent and help transform the fashion industry. "I wanted to take the first step in shifting the trend to powerful women and away from gaunt models," she wrote in an email. "This will start a conversation about the type of models that are cast in campaigns. This recognition will help pave the way to have healthy restrictions around models and over-photshopping," she continued. 
Carrie Hammer NYFW 2014 Role Models on the Runway from popexpert on Vimeo.
When New York Fashion week rolls around again next fall, the designer vows to take her concept to the next level. She'll be booking women from all walks of life and making sure that young women and girls have front row seats. 
"For Fall Fashion week we will have our second Role Model fashion show at Lincoln Center and the first row won't be media or buyers — it will be young girls and women who will learn that role models are the ones to look up to. I hope that my daughter and girls in the future will one day play 'office' instead of 'house.'"
Image Credit: Danielle Sheypuk Instagram
You can check out Carrie Hammer's line of jaw-dropping dresses and learn more about Danielle Sheypuk's work and activism by visiting her website. 
What do you think about Carrie Hammer's transformative approach to fashion? Let me know on Twitter and Facebook.