6 New York Fashion Week Newbies Who Took the Runway by Storm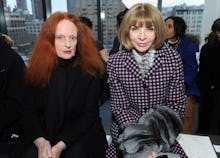 New York Fashion Week, a time in which seven-foot coconut-water chugging beauties (a.k.a.models) from across the world unite with leather-pant wearing editors to descend upon the city, ended on Friday. The week gave us a glimpse at designers' offerings for Fall/Winter 2014, and made one thing very clear: Young American fashion, which combines London's edginess with Paris' elegance, is anything but stale. So move over Michael Kors and Donna Karen, because here are six fashion young designers who are reshaping the game. 
1. Timo Weiland
Though he is the recent winner of this year's Ecco Domani prize, Timo Weiland and his two co-designers, Alan Eckstein and Donna Kang, are not yet household names. But the name "Timo" is murmured quietly like secret currency between the fashion in-crowd whenever asked who the hell made that astonishingly cute dress. For fall and winter, the Timo girl is one part punk rock, one part Park Avenue — and all parts chic. 
2. Joseph Altuzarra
The 30-year-old, Chinese-French-American designer's show was one of this season's most sought after tickets — and with good reason: Joseph Altuzarra is one hell of a designer. He is at once classic and mod, chic as well as tough. His clothes would work just as easily on a septuagenarian socialite as they would on a Marissa Mayer-type CEO or a Brooklyn It Girl.
Shape and color were obvious obsessions this season, with billowing jackets and punches of deep blue, magenta and orange. None of this is surprising from the man whose shoes graced the New Yorker's style issue and who just received the Wall Street Journal treatment.  
3. Opening Ceremony
Opening Ceremony began as a store in 2002 and soon after became a lifestyle-cum-clothing mini behemoth, but the store's own line, designed by Humberto Leon and Carol Lim, only just debuted in last fall's fashion week. That show was race car themed, complete with models gallivanting out of Lambourgini's and Mercedes, and had guests like Rihanna and Justin Bieber.
They managed to top themselves this year with a runway that had chocolate dripping down the walls. Their new Belgian-themed collection continues their reign as the masters of quirky sex appeal. 
4. Rosie Assoulin
"Cleanliness is next to godliness" is a maxim 28-year-old designer Rosie Assoulin must know by heart; her silhouettes are spotless. The New York-native (and Forbes's 30 Under 30 alum) had her first show this September for her Spring/Summer line. The show was a rare combination of modern and drama, emanating a love of volume that may have developed after her stint in Oscar de la Renta's atelier. As she puts it, her designs are somewhere "between the romantically fantastical and reliably practical."
5. Wes Gordon
Wes Gordon was only 25 when First Lady Michelle Obama wore one of his designs to the Kids Choice Awards in 2012. So how does one move up from there? Continue to show badass yet emphatically classy designs that exude individuality.
Head-to-toe Wes Gordon feels anything but basic — a rarity for any designer. And this season, the Houston native's collection was no exception, emphasizing differing texture and downtown je ne sais quoi. 
6. Prabal Gurung
Another Michelle Obama favorite, Prabal Gurung drew inspiration from his Nepalese roots, particularly the Mustang region, a Himalayan territory wedged between Nepal and Tibet that was off-limits to outsiders until 1991, for this season. "It's one of the last remaining Shangri-las," he said. He draped knit upon knit — a look fit for a well-travelled woman of any age. Color, especially crimson, was key to the collection, lending a particularly romantic feel.