The Little Girl From the '80s Lego Ad Has a Very Important Message for Toy Makers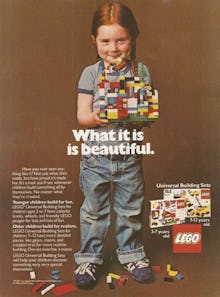 There was a time when Legos were simply bricks — non-gendered bricks — without any cultural stereotypes restricting their usage. This Lego is perfectly encapsulated by the inspiring 1980s ad that went viral last month, featuring an adorable redheaded girl proudly holding her creation.
But this Lego is no more. A thought-provoking "then and now" photo featuring the all-grown-up Rachel Giordano, a 37-year-old practicing naturopathic doctor, shows how toy marketing has changed for the worse.
Image Credit: Women You Should Know
Giordano explained the change: "In 1981, Legos were 'Universal Building Sets' and that's exactly what they were ... for boys and girls. Toys are supposed to foster creativity. But nowadays, it seems that a lot more toys already have messages built into them before a child even opens the pink or blue package. In 1981, LEGOs were simple and gender-neutral, and the creativity of the child produced the message. In 2014, it's the reverse: the toy delivers a message to the child, and this message is weirdly about gender."
The toy Giordano holds in the "now" shot illustrates this message well. It's the newest addition to the Lego Friends line (a line of Lego marketed exclusively to girls) called the Heartlake City TV news van.
Image Credit: Playzone
The van, which could easily act as an inspiring introduction to the field of journalism for girls (and boys), doubles as a beauty salon, reducing the toy to another shallow gender stereotype. The toy's assembly instructions emphasize the make-up table first and foremost, which children should use to get the anchorwoman, Emma, "looking up her best" for her big story on the "world's best cake."
Play is one of the most vital aspects of a child's development, and the that toy makers are introducing gender stereotypes into what should be a mind-expanding activity is disheartening. Girls should be able to imagine themselves as professional journalists without being hit with "pinkified" messages emphasizing glamour and artifice. Giordano's message is provocative and necessary, and it will hopefully be heard by toy manufacturers to inspire an equal and open world for our children.