Here's How You Respond to a Reporter Who Assumes You're Not Smart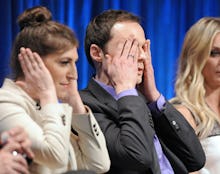 I may know very little about the Big Bang Theory, but I do know this: Mayim Bialik, the woman who plays Amy Farrah Fowler, knows how to keep her cool when a pesky reporter is on a train headed straight for face-palm-town.
During a red carpet interview at the SAG awards this January, the actress was forced into an awkward situation after Bono's doppelganger tried to asked her if people assume that she can do advanced math because she plays a smart character on TV. As it turns out, she can do calculus in her sleep because she's secretly a neuroscientist. And by secretly, I mean she publicly taught for several years, wrote a book about the science of hormones for parenting and has given several public (and very recent) lectures about the importance of investing in STEM careers and research. Oh and she's also the official spokesperson for Texas Instruments graphing calculators. Too bad this host didn't bother to read her Wikipedia page before he asked her the following question: 
If the red carpet host (or at least an intern on his team) had read Wikipedia, he would have learned that after Bialik handed in her dissertation on the "investigation of hypothalamic activity in patients with Prader–Willi syndrome." She earned a PhD in neuroscience. 
So yeah, I think she qualifies as someone who knows her way around the science department.
Instead of dwelling on the painful ignorance of the SAG awards red carpet team, let's celebrate how impressive Mayim Bialik truly is. Not only is she committed to the advancement of science, she's also particularly interested in making it a welcoming space for women. In the video below, she explains that why she loves playing a scientist on television as a role model for young girls.
If that doesn't tickle your fancy, there's also some images floating around the Internet from when she went to STEMsmart TechActive Science Classroom of Tomorrow at Sarasota Middle School last June.
Image credit: AP
Image credit: AP
Whether it's on the red carpet, on the big screen or in the classroom, Mayim Bialik is encouraging young girls to pursue the careers they deserve and we couldn't be more thrilled that she's going the extra mile to show everyone that girls can be math nerds too.
For more on women, media and science, follow Liz Plank on Twitter and Facebook.