The 9 Most Heartwarming Moments From Sochi 2014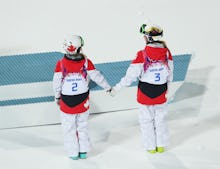 February 14 — a day dedicated to the romantic. Restaurants turn red and greeting card company executives solidify their stock options in giddy anticipation. The air is a flutter with excitement, intrigue, sentimentality, idealization and ... awkwardness. Whether you're single, committed, or have a cat (like me!) this Valentine's Day you're in luck — because the Olympics are here.
Cupid and Vladimir Putin must have synchronized their watches for 2014, so to commemorate their strategic planning and the subsequent overlap of the Winter Olympic Games and Valentine's Day, here are the 9 Most Romantic Moments from Sochi so far:
1. The Little Snowflake That (Almost) Could
We begin with a scene of romance, in the most artistic of ways.
The opening ceremony for the Sochi Winter Games was hotly anticipated for its promise of wonder and its exorbitant price tag, and everything it delivered was spellbinding: the ballet, the lights, the Tchaikovsky.
Near the beginning of the ceremony, five snowflakes began to float down into a familiar position, set to transform into the interlocking Olympic rings. However, the little "red" snowflake decided not to hold hands with its partners, resulting in the formation of "rings and star."
Poor star, no one likes to be the fifth wheel.
2. Double Doody
The infamous Double Toilets of Sochi have caused quite a stir, but at least you can go poo next to someone you love.
3. Sister Power
Some sisterly affection made for a great moment at one of the early Sochi events.
Justine and Chloe Dufour-Lapointe, sisters from Montreal, won the gold and silver in the women's moguls at Sochi. They decided to spend their time standing next to each other on the medal podium holding hands. Even though the Dufour-Lapointes failed to monopolize the podium — oldest sister Maxime also competed, but didn't capture bronze — the two younger Canadians gazed into each other's eyes, trying to "live that moment together."
4. Ski Sacrifice
In a gallant display of sacrifice and camaraderie, Canadian cross-country head coach Justin Wadsworth ran onto the slope during the men's cross-country sprint semifinals and replaced a broken ski for Russian rival Anton Gafarov.
Apparently this wasn't the first time an opposing team's coach has played the role of an Olympic knight in shining armor. In fact, it was a Canadian cross-country competitor who required assistance in 2006. Norwegian coach Bjornar Haakensmoen came to the rescue in Torino to provide Sara Renner with a new ski pole halfway through the race. As a thank-you, Canadian fans sent five tons of maple syrup to Haakensmoen. Should Wadsworth be awaiting the world's largest bottle of Vodka?
5. Get Ready for the Gay Mountain
One of the most prevalent topics of debate surrounding Sochi has revolved around Russia's numerous attacks on homosexuality.
While Sochi's major, Anatoly Pakhomov, told the BBC that Sochi just doesn't have gay people, the western media has replied through the powers of marketing to point out his prejudice (or at least make him feel incredibly uncomfortable). In what should be deemed a grand gesture of support and love (for all), the UK's Channel 4 came out with an anthem for the athletes competing on "Gay Mountain."
6. Beyonce on Ice
In an experiment inspired by perhaps the most romantic of Olympic events (pairs ice dancing) and the most sensual of musical artists (Beyoncé), BuzzFeed played cupid and struck the hearts of young Olympic viewers everywhere by setting the routine of U.S. ice skaters Meryl Davis and Charlie White to Beyoncé's smash-hit, "Drunk in Love."
Swapping out Scheherazade for Sasha Fierce turned the Olympic event into a depiction of "how angels copulate" raises the question, "Why aren't more people ice dancing to Beyoncé?!"
7. XOXO Putin
Uh oh, someone's secret love life may have become a little less secret.
Alina Kabaeva, one of the six Russian torch bearers carrying the Olympic flame in the opening ceremony, had a real-life romantic flame of her own in the audience: Russian President Vladimir Putin. The rumored relationship between rhythmic gymnast Kabaeva and Putin has swirled since 2008, with commentators in Sochi insinuating that romantic feelings — not athletic merit — may have landed her the prestigious torch-carrying gig.
8. [No Words]
Who doesn't love puppies?! Apparently the officials of Sochi, who in the days leading up to the Olympics, ordered the mass murder of stray dogs around the Sochi complex.
With a widespread revolt from animal lovers, activists and volunteers set out to gather the dogs before they were "disposed of," building make-shift shelters and attempting adoptions. Then enters Gus Kenworthy, a skier from Telluride, Colo., who decided to help out — one puppy at a time. 
Posting under the Twitter hash-tag #sochistrays, Kenworthy has apparently lined up kennels and vaccination appointments for the little wiggles, and posted some pretty swoon-worthy photos along the way. 
9. iGot the Hots for You
And, finally, the most literal of romantic moments so far — cupid in app form, Tinder, is alive and well in the Olympic Village.
With its use amongst athletes in Sochi described as "next level" by American snowboarder Jamie Anderson, "love" amongst the competitors is apparently brewing, albeit distracting. Both Anderson and Sage Kotsenburg won gold medals at this year's games — and both deleted their Tinder (and dodged cupid's electronic "arrows," aka texts) before claiming victory in 2014.