Westboro Baptist Showed Up in Missouri Protesting Michael Sam — Here's What the Students Did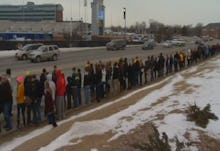 Since publicly coming out, Michael Sam has laid low among his fellow students at the University of Missouri. 
That changed Saturday when he appeared before his alma mater with the rest of the Mizzou Tigers football team to accept the 2014 Cotton Bowl Championship trophy during halftime of the Missouri vs. Tennessee basketball game.
How did his fellow students react when they saw him? Like this: 
Sam, and the rest of his football team, received a long standing ovation from fans.
But unfortunately, it's virtually impossible to avoid backlash. Outside of the game, members of the Westboro Baptist Church congregated to protest Sam and his supporters.
Images via YouTube
"They comforted him in his sin, Michael Sam, this past week," said Shirley Phelps-Roper, a leader at Wesboro. "They just absolutely went crazy when he announced and told the world he is a filthy pervert and a rebel against God. They fawned all over him."
Here's how students responded: 
Missouri sophomores Kelaney Lakers and Alix Carruth started a #StandWithSam Facebook group and mobilized hundreds of students to form a peaceful but strong human wall to block out the Westboro protesters.
Image via YouTube
"We're both Christians," Lakers told KRCG 13. "The thing is God is love. What they are doing is hateful, but being hateful is a sin. We're also supposed to show love to them. We are not going to be yelling things at them or be vulgar. It's not about that."
Faith in humanity = restored.
Sam sent this to the students: 
\