Remember the Nike Power Laces From 'Back to the Future'? You Can Buy Them in 2015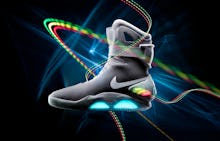 The news: In Back to the Future Part II (1989), hero Marty McFly travels to the year 2015 and gets hold of a pair of Nike high-top sneakers. When he puts them on, something crazy happens:
That's right: The shoes have "power laces" that tighten automatically, conforming to the shape of Marty's foot.
Great, but when can I get a pair? Sooner than you think. In 2011, Nike unveiled the MAG (Magnetic Anti-Gravity), a rare homage sneaker that duplicated the BTTF2 design. Only around 1,500 pairs were made, and all proceeds went to The Michael J. Fox Foundation for Parkinson's Research. The sneakers came in a box like this:
Images: Nice Kicks
Today, pairs are being sold on eBay for thousands of dollars.
There was just one problem with the shoe: no power laces. But according to Nike designer Tinker Hatfield, that's all about to change. During an appearance in New Orleans last week, Hatfield was asked if we would be seeing the infamous laces anytime soon. "Are we going to see power laces in 2015?" Hatfield replied. "To that, I say YES!"
There you go. 2015, the year the film takes place, may be the same year many don their first pair of "power-laced" Nikes. Now all we need is for GM and Element to work on lines of flying cars and hover boards. Because where we're going, we don't need roads.