Bode Miller Collapses in Grief After Being Egged On About His Dead Brother By An NBC Reporter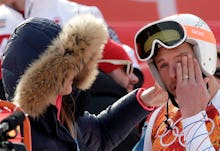 At 36 years old, Bode Miller won the bronze at men's super-G event on Sunday, becoming the most decorated American alpine skier and the oldest alpine skiing medalist in history. After he was sidelined by a knee injury for the most of last year, Miller made an impressive comeback before his younger competitors — at what he has teased to be his last Olympic games. For any Olympian, that would have been reason enough to get emotional.
But Miller's true emotional test came after his win at a post-game interview with NBC correspondent Christin Cooper. The interview started innocuously enough, with Cooper asking what this medal meant in the context of "all the others" that Miller had won. Miller then brought up his brother Chelone, who died last year from a seizure.
"This was a little different. With my brother passing away, I really wanted to come back here and race the way he sends it. So this was a little different," he told Cooper.
What followed were a series of follow-up questions about Chelone's death, one more invasive than the other. Here's the full video:
Though Miller signaled his discomfort at the personal nature of the questions, Cooper continued to pry until Miller collapsed to his knees and cried against the fence. He eventually walked away and was comforted by his wife.
The invasive nature of the interview then led to an online firestorm, with many criticizing Cooper for taking it too far. Miller's name even became a trending topic on Twitter after the interview. The backlash against Cooper led Miller to take to Twitter to explain why he was so emotional, and why he didn't blame her:
He also retweeted the following from a fan, seemingly squaring the blaming on NBC:
Miller also cleared the air when he appeared on the Today Show to talk about his win. "I've known Chris for a long time. She's a sweetheart of a person," he said. "I know she didn't mean to push. I don't think she realized what my reaction would be. … I don't blame her at all. I feel terrible she is taking the heat for that. I don't think there was any harm intended. There was just a lot of emotion for me."
The online outrage led NBC to issue a statement, though the network did not make a formal apology:
"Our intent was to convey the emotion that Bode Miller was feeling after winning his bronze medal. We understand how some viewers thought the line of questioning went too far, but it was our judgment that his answers were a necessary part of the story. We're gratified that Bode has been publicly supportive of Christin Cooper and the overall interview," the statement read.
While Miller seems to be ready to move on from the episode, NBC's non-apology suggests that the network is not planning on changing its interview protocol any time soon. While Miller was the first to bring up his brother, it was Cooper and her producers who pressed him despite his obvious pain and discomfort, all for the sake of a click-bait story. What they saw was an Olympian with a good backstory, not a human being in need of a private moment of grief.