San Francisco vs. New York: Which City Is More Start-Up Friendly?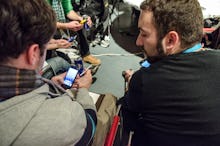 There's a tech war happening out there and it's between the East and West coasts.
Silicon Valley is the tech capital of the world, serving as headquarters for tech giants such as Apple, Google and Facebook. However, in recent years, New York's resources have proven crucial to the entrepreneurial spirit.
"Where the seed is planted is where it is likely to grow," Larry Marcus, managing director of investment company Walden Venture Capital, which specializes in digital media and cloud services, told PolicyMic.
"San Francisco is to entrepreneurs like Los Angeles is to actors," he said, estimating that around 50,000 angel and seed investment deals are transacted in the Bay Area each year. "That said, there is real growth in businesses in New York, which is very entrepreneurial and a true media center."
Both cities are similar when it comes to an extremely expensive cost of living and available funds for startups, but the two do have some interesting differences that entrepreneurs should consider:
New York is best if you're starting a music or retail startup.
Brent Axthelm, co-founder of online radio station Bandpass.fm and former program manager at Bing, said that the East Coast offers an avenue for companies seeking a connection with end users outside of the tech sector.
"I had a great time in San Francisco each time I visited, but I wanted to be where the music is, not where the startups are," he said. "New York is a magnitude greater in order of music fans, venues, and tours. We wanted to start local in our larger market."
Erica Cerulo, co-founder of Of a Kind, an editorial and retail website that features profiles of up-and-coming fashion, told PolicyMic: "Since the fashion community is so rooted in New York City, being here was key — we were able to meet with designers in person, see their studios and their work and really get a sense of how they ran their business."
New York is best for co-op office spaces.
The Big Apple is home to a number of cooperative office spaces like Fueled Collective and We Create, with desk rent ranging from free (employees have to trade services in return) to at least $300 per month. According to DeskMag, New York boasts more co-working spaces than any other city in the world.
The co-op spaces also enable entrepreneurs to collaborate and share ideas with one another. Many first-timers take advantage of this opportunity before taking on leases of their own.
This is not to say San Francisco doesn't offer some cool office pads. It has Nextspace and PariSoma, but the West Coast simply doesn't have as many options as the East.
The Bay Area is best for technology companies.
Traditionally, the Bay Area is seen as the star nebula of young techies, having incubated companies that other companies rely on, such as Apple, Twitter and Dropbox.
"We leverage San Francisco for its technology professionals for the data work that we do," said Michelle Lam, whose company True & Co. uses a quiz-based algorithm to match customers with the lingerie the company sells. "Building a tech team is much easier on the West Coast. We even met people from Netflix, based here in South Bay, who helped us with coding."
Image: Flickr user Patrick Nouhailler
San Francisco has a bigger startup ecosystem.
"San Francisco and Silicon Valley are the world's biggest Internet clusters," Geoff Mathieux, co-founder of San Francisco-based ride-sharing service Wingz, told PolicyMic. "We have the world's largest ecosystem of Internet companies to partner with and investors looking for good entrepreneurs."
The startup-friendly environment of the city offers a community of like-minded people that is "beyond compare," said Mathieux, including competitions such as last year's Semantic and Pitch conferences, offering access for those seeking inspiration or looking to invest.
Lam, who moved from Boston to San Francisco, agreed that San Francisco's well-developed startup environment offers "tons of opportunities to pay it forward by giving advice and help," she said. 
In creating her own business plan, Lam invited neighbors from her building for fitting parties in her home. During this time, the entrepreneur said she received so much meaningful and specific feedback from products managers who attended her fittings, she was able to start True & Co. in less than a year. 
San Francisco has better government programs supporting entrepreneurs.
"I think the city of San Francisco does more to foster economic development and small business than any other city I have come in contact with," said Ann Johnson-Stromberg, interim services director of the San Francisco Small Business Development Center.
In 2012, the city passed an initiative exempting businesses with less than $1 million in gross receipts from paying taxes on them, and also offers payroll tax exclusions for biotech companies.  
Other programs like Entrepreneur-in-Residence, funded by the mayor's office, assists developers whose products can improve public health and transportation services or lower costs by improving communication and hiring processes.
The city channeled federal funding into a web-and-code training and job placement program — although that came under some fire for not doing enough to reach out to underserved communities.
New York State isn't far behind with a Cuomo-led initiative called StartUp NY, which will soon create decade-long tax-free zones for new and expanding businesses located on or near a college campus.
The New York City Economic Development Corporation (NYCEDC) helps startups find the grants they need; Take the H.E.L.M. encourages companies to move to downtown Manhattan; and Project Pop-Up NYC pairs fashion start-ups with retail space.
Whatever city you decide to choose for your startup, understand that community is everything. What community do you have deeper networks in? What city can your business easily be a part of?