8 Hottest Meeting Spots for Entrepreneurs in New York City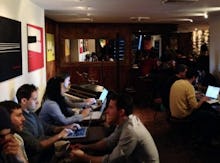 Startup entrepreneurs will attest that they're constantly working — especially in the beginning stages of building their company.
But if you are going to pull long hours, you need to be in an environment that is productive, conducive to your work and gives you access to inordinate amounts of caffeine.
With the rise of co-working spaces in New York City, these popular coffee/bar spots often end up being used for quick meetings and networking purposes. Where are the who's who in tech startups hanging and working?
Below are a few hot spots we gathered from those in the startup scene.
1. Budin, Brooklyn
The Greenpoint startup scene is booming and Budin, a new cafe in the area, has become quite the hot spot. Adda Birnir, Founder and CEO of Skillcrush, told PolicyMic that Budin is so "big and spacious you forget you are in NYC." It also helps that there's delicious coffee and free danish chocolate and licorice offered. Just be prepared to shell out $7 for a latte. 
2. WhyNot Coffee & Wine, Soho
According to Phil Reichenberger, formerly of Shutterstock and now CTO at Lyte, WhyNot Coffee & Wine is perfect for entrepreneurs with its open spaces and numerous outlets. "It is very friendly to coworking," he said in an interview. One Facebook fan even called it an "entrepreneur's dream."
WhyNot Coffee & Wine also knows how to work its social media, encouraging patrons to Instagram their latte and books. 
3. Pushcart Coffee, Chelsea
Kathryn Minshew, CEO and Founder of The Muse, lists Pushcart Coffee as one of her top spots to get work done. It's a "beautiful well-lit space, good wifi, not very sceney, but good for getting work done," she told PolicyMic.
Perhaps entrepreneurs feel at home here because its owners are making a push for the chain to build a sort community within its neighborhoods.
4. The Ace Hotel Lounge, Flatiron
Even though everyone and their mother knows this is a cool place, every single entrepreneur we spoke with still had this on their list. Just don't plan on getting actual work done. Let's be clear, this is a scene. "It is hard to get actual work done but very good for networking and people watching (and/or being seen)," Minshew told PolicyMic. Plus, you can start with a coffee then go straight into cocktail hour. 
5. Cafe Vineapple, Brooklyn Heights
Caroline McCarthy, VP of communications and content at true[x] Media and a consultant for many startups, said this is the spot for freelancers in Brooklyn Heights. "I think because co-working and freelance work spaces are now centered on more official spaces, when people are looking for somewhere to just go and work, they go somewhere in their neighborhood," she said. Just remember, they do ask for one drink to be purchased per one hour of use of the free wifi. 
6. Toby's Estate, Williamsburg
Reichenberger and McCarthy both named Toby's Estate as a go-to for entrepreneurs. Proof that the Australians are taking over the startup scene, this coffee shop in Brooklyn is uber-popular. In fact, it is quite hard to get a seat. The New York Times profiled it a few years back as the place for the creative startup crowd.
7. Tom & Jerry's, East Village
This bar is still considered one of the top go-to's for happy hour in the entrepreneur circle, said McCarthy. Plus, it gets extra cool points for being the bar Jessa went to on the second episode of Girls and got a White Russian (instead of going to her doctor's appointment).  
8. Ground Support, West Soho
Leslie Zaikis, a consultant and strategist who works with startups including Moro and Sundara, told PolicyMic that Ground Support is one of her go-to meeting spots. She said, "The staff is super friendly, a great selection of food and more seating than most spots in Soho." Plus, the fact that it's around the corner from the co-working space, Fueled Collective, is definitely making this an entrepreneur hot spot.