Why Putin is Loving the West's Protests Against Russia's Anti-Gay Laws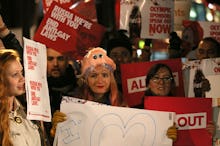 Have you heard about Russia's ban on "gay propaganda?" The piece of legislation, which Vladimir Putin passed into law last year, has sparked star-studded protests across the Western world. Putin's laws have triggered countless campaigns and petitions — he's drawn ire from celebrities, among them Madonna, Jamie Lee Curtis and Melissa Etheridge. 
But what if I told you that Putin likes the attention he's getting?
Of course Russia has a terrible record for gay rights — but what some protesters don't understand is that the legislation is part of Putin's deliberately anti-Western agenda. The movement is one he set out to create in order to boost his power over a country with deep conservative roots by angering Americans and making antagonists out of them. Many protesters criticize the anti-gay propaganda policy without understanding Russia's complicated relationship with homophobia. Their lack of understanding the very country they're trying so hard to vilify leads to narrow-minded and Eurocentric arguments and actions, which only fuel Russian nationalism.
Protest against Russia's gay propaganda ban in Los Angeles, CA. Image Credit: AP
A string of anti-Putin protests in 2012, with more than 14,000 participants each, threatened the president's strong grip on the country. From 2008 to 2012, he saw his approval rating steadily drop. In order to solidify his power, he came up with the concept of the "good Russian," according to Masha Lipman, an analyst at the Carnegie Endowment for International Peace's Moscow Center. Putin's "good Russian" holds "traditional family values" and practices "a life of religion."
It sounds like the "good Russian" is a conservative Republican, and he is, only he's also anti-American. He is against the West as well as against the gays. And he has lots and lots of children from his heterosexual relationship because helping to stop Russia's birthrate from declining is of utmost importance to him.
Putin at the Orthodox Christmas service earlier this year. Image Credit: AP
When Putin passed the anti-gay law as part of a line of conservative policies based on the "good Russian" mentality, Russians loved it. A poll conducted by the Russian Public Opinion Research Center right after the law was passed found that 88% of Russians supported the legislation. The law's massive popularity helped Putin to finally define post-communist Russia by juxtaposing it with Western society. According to Lipman, there hasn't been this much anti-Western sentiment in Russia since the fall of the Soviet Union.
Throughout the past year, Putin said that traditional Russian values are superior to the West's "faceless, sexless tolerance" — a phrase he used in his address to the Russian Federal Assembly in December. Russia is also fighting for "traditional values" on the international stage too: the country has been spearheading an effort at the UN to pass a resolution protecting traditional as well as "cultural" values. 
By criticizing the anti-gay propaganda law without wrapping their minds around what led to the legislation, Americans corroborate the picture Putin has painted of America — that it's a chaotic, atheist society of "tainted capitalism," where gays are running around expressing their pointless "free speech" and demoralizing society.
If Americans want to help change the anti-gay propaganda law in Russia, they need to show that they understand the mechanisms of repression deeply rooted in Russia's history of silencing minorities that led to the legislation.
This uniquely honest story from independent news channel Dozhd illustrates a deep cycle of hate that gay Russians now have to deal with:
A girl in the ninth grade living in Bryansk Oblast, in the western part of Russia, was recently indicted for coming out as a lesbian, and officials don't know whether to apply the anti-gay propaganda law to her case because she's underage.
The girl, who Dozhd kept anonymous, told Dozhd she was outed by a boy in her class who is an active anti-gay rights activist on the internet. He found her on a support forum for members of the LGBT community and told her parents and school officials about it, which apparently was cause enough for a meeting between the girl and a committee of the school's employees. During the school meeting, the girl said she was a lesbian. The police served her a subpoena in school and called her in for a "conversation," spreading rumors throughout the school. The girl told Dozhd that no one came to her defense. Police ordered her to cut off her internet access and attend meetings with a psychologist.
Putin said the anti-gay law is first and foremost meant to protect children. So it's, at the very least, ironic that under the law, this minor is suffering from alienation among her community members and not receiving the psychological assistance that the police mandated.
After no one helped her find a psychologist, the girl decided to take matters into her own hands and post to a support group called Children-404 on Vkontakte, Russia's Facebook. The group helps LGBT minors in crisis find psychological aid.
Image Credit: Vkontakte
But Children-404 came under fire around the same time. The group's creator, Elena Klimova, told Dozhd that conservative St. Petersburg politician Vitaly Milonov sent an official warning to officials that the group had broken the law. At the police office in her local town, Klimova said, "they showed me a huge folder with screenshots and said that there were seven complaints from Milonov. They didn't even let me see it, they just read it out loud."
When asked about the incident, Milonov said he complained to the police about the group because, "There existed a group of gay propaganda among children." Klimova was fined 100,000 rubles, or $2,850 for distributing "gay propaganda."
So there you have it. A ninth grade lesbian who sought support on the internet was outed by her homophobic classmate, indicted by her school and ostracized from her community, only to find that the one group she felt safe enough to ask for help was punished for helping others in similar situations.
That's just one example of the fear being delivered to people's doors in Russia like takeout. The landscape of oppression against LGBT persons in Russia is intricate and unforgiving. That's why Americans need to understand more than ever that Russia's homophobic climate is not going to change just from protests, or from every article they write with a headline like, "This is how the West is doing gay rights, Russia. Why can't you be more like us?"
As Travis Waldron wrote for ThinkProgress, changing Russia "will require political institutions and education campaigns not unlike those that changed popular opinion about LGBT equality in the United States."
The U.S. should take its 20 years of LGBT activism and realize that progress is a slow-moving operation that can't be forced upon those who aren't in the mood or the place to consider it.