Canadian Figure Skaters Were Given a Poncho Instead of a Flag Yesterday After Winning Silver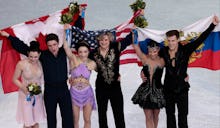 When Americans Meryl Davis and Charlie White won the gold medal for Figure Skating Ice Dancing in Sochi they were given and American flag to drape around themselves and wave in celebration. When Russians Elena Ilinykh and Nikita Katsalapov won bronze, they too were given their country's flag. But when Canadians Tessa Virtue and Scott Moir were awarded the silver medal, they were given ... a poncho!? 
Image: Tumblr via BBC
Granted, it was a Canadian flag poncho, but it was still a poncho, and that's kind of strange. Virtue and Moir were apparently given the poncho by fans in the crowd, but you have to wonder if they couldn't have gotten a normal flag?
But then again, if it was just a normal flag, this would have never happened:
And then this would have never happened:
Image Credit: AP
Virtue and Moir have been skating together since 1997 and won the gold medal in this event at the 2010 Vancouver Winter Olympics. Though the duo was pleased with their silver medal performance, they spoke after the competition about their tempered dissatisfaction with coach Marina Zoueva, who also works with American gold medalists Meryl Davis and Charlie White.
"We sometimes felt like (Zoueva) wasn't in our corner," Moir said more as a matter of fact rather than a complaint. "We had some odd things happen this year. We expected Marina to be on our team and work with us like in Vancouver."