Fancy French Chefs Want to Ban Food Porn Photos From Their Restaurants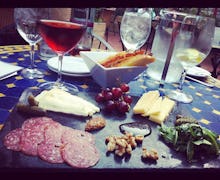 If you find yourself at a fancy restaurant in France, when your food arrives, your waiter may say "Bon appétit" — with one caveat: "Please, no photos." Michelin-starred chefs across the country are instituting bans on camera use, smart phones or otherwise, while dining, perhaps precipitating the end of "food porn," the enormously popular practice of snapping photographs of food and sharing them on social media, a term for which there is, unsurprisingly, no French translation.
Some chefs simply want patrons to enjoy their meticulously prepared meals without interruption. "There's a time and a place for everything," said Alexandre Gauthier, chef at Grenouillère in the northern town of La Madelaine-sous-Montreuil, who has put an image of a camera with an X over it on the menu. "We are trying to give our clients a break in their lives. For that, you need to turn off your mobile … [i]t's Tweeted, liked comments are made and replied to — by then the dish is cold," he said.
Others worry about snapshots disseminating intellectual property. Gilles Goujon, chef at the three-starred L'Auberge du Vieux Puits in the southern town of Fontjoncouse, said food pictures "take away the surprise" of some of his dishes and "take a bit of my intellectual property."
Much to the chagrin of international food bloggers and "foodstagrammers," the outcry is not limited to France. In 2008, celebrated chef David Chang had enacted a no-photography policy at Momofuku Ko, his super trendy and foodie favorite NYC restaurant. The New York Times recently reported that famed New York chef Daniel Boulud and high-end London restaurant Fat Duck discourage the practice as well. Other restaurants — Seiobo in Sydney, Australia and Shoto in Toronto — have a policy against flashes.
"It's a disaster in terms of momentum, settling into the meal, the great conversation that develops," chef David Bouley, whose NYC restaurants also ban photographs, said. "It's hard to build a memorable evening when flashes are flying every six minutes."
And while food porn proponents may argue that their incessant sharing provides free publicity to restaurants — see the Instagram feed of food blog Immaculate Infatuation and their hashtag, "#EEEEEATS," — meant to entice other diners and flatter the chef, it may not be such a bad idea to unplug and simply enjoy the food put before you.