The Bizarre Story of a Hedge Fund Manager Who Bought His Way Onto an Olympic Team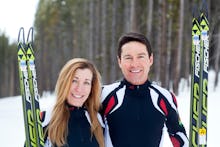 From a young age, kids and teenagers around the world dream of competing in the Olympics. If you play an Olympic sport, you train and work day-in and day-out hoping for the chance to represent your country in the most prestigious of international competitions. Of course, there's always another option: Get super rich and simply buy your way into the games.
Gary di Silvestri is a wealthy former investment fund manager from Staten Island, NY, who did not try cross-country skiing until after he was 30. Di Silvestri met his wife Angelica, who is from Italy, while he was studying in Rome on a Rotary Scholarship. The couple is competing for the Caribbean island of Dominica at the Sochi Winter Olympics.
Image Credit: AP
How did this happen? Angelica and Gary, who are the first husband-wife team to compete in a Winter Olympics, are extraordinarily wealthy. They channeled some of that wealth towards humanitarian projects in Dominica — the details of which remain undisclosed. As a thanks, the small island with a population of about 70,000 granted the couple citizenship, so when the country decided to send a delegation to Sochi, who better to call than their favorite honorary citizens?
"It did sound like a fairy tale," Angelica Morrone di Silvestri told U-T San Diego. 
But only kind of. Another perk of their extraordinary wealth was the ability to create the National Ski Association of Dominica (kind of sounds like an oxymoron, right?), then compete in enough official races to technically qualify for the Olympics. Gary, 47, qualified in December in Montana, where the couple has a home. Angelica, 48, qualified in late January in Maine, making her the oldest cross-country skier in Olympic history. 
Though some, like Bill Mallon, an Olympic historian from the United States, called the di Silvestris "classic Olympic tourists," the couple argues that they are serious athletes. 
"We're not taking this lightly," Gary di Silvestri said. "The qualifying process was not easy."
Image Credit: AP
The couple made it to Sochi as the lone representatives for Dominica. If the story stopped there it would be pretty weird already, but there's more. Things were mostly smooth sailing getting to Russia, but once the di Silvestris arrived in Sochi, everything took a turn for the worse. 
The day after the opening ceremonies, Gary woke up with sharp stomach pains. 
"He was taking a shower and did not pay attention to the color of the water," Angelica told U-T San Diego. "He also brushed his teeth with the same water. The following day, he developed very strong abdominal cramps and went to the clinic, where he was diagnosed as having caught acute bacterial gastroenteritis."
Not the best diagnosis for a 47-year-old about to compete in the Olympics. But later that day, while training with her coach, Angelica clipped her skis, lost control and slid into a protective fence that was slightly padded — but not padded enough to prevent serious injuries to her face. Angelica's coach helped her to get carted off on a snowmobile, then in an ambulance.
Both were bedridden for several days: Angelica spent her time in a hospital, where she had reconstructive surgery on her nose, spent 36 hours in intensive care, then had two more surgeries. Meanwhile, Gary remained in his hotel room, hoping his bug would pass. It did not. Despite having a few days to recover, Gary was unable to make it more than 300 meters across his event's starting line before collapsing. Angelica never competed. 
But the story gets even weirder After this already-odd story came out, Deadspin did some digging and found an interesting case of apparent tax-evasion from the 2006 sale of ultra-luxurious Turks and Caicos private island, Emerald Cay. The island boasts a 30,000 squareft house, a three-story library, 6,000-bottle wine cellar, two swimming pools, a boat house, a guest house, a caretaker's house, two private beaches and a remote-controlled draw bridge ... because, why not?
Well, it turns out that the couple told the Turks and Caicos Islands (TCI) that the sale of Emerald Cay, to American Tim Blixseth, was worth $10.5 million. In fact, the final transaction came closer to $30 million. A TCI Supreme Court Judge called the sale "a carefully crafted scheme of tax evasion," and last year, two attorneys involved in Emerald Cay's sale were indicted. One of them was charged with "cheating the public revenue, conspiracy to cheat and conspiracy to false account."
The di Silvestris themselves were never indicted in connection to the sale, but were not looked upon favorably in submitted court documents. Furthermore, Blixseth is claiming he was duped by the cross-country skiing couple, and is suing them for $28 million in damages. 
An American and Italian competing as Dominicans, a stomach flu, a broken nose and a major case of tax evasion. How bizarre indeed.