Every Country James Bond Has Ever Traveled to — In 6 Crazy Maps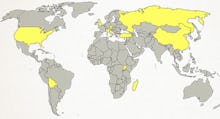 The news: The James Bond film series is one of the longest running in history, with 23 official entries spanning the course of 50 years. Between Dr. No (1962) and Skyfall (2012), the jet-setting British super spy has been played by six different actors, and engaged in countless life-threatening exploits no lesser man could emerge from alive. This lifestyle is not without its consequences: living constantly on the verge of annihilation cannot help but impact Bond's relationships with women, nor is it soothed by his endless string of would-be assassins. But it does have its upsides, foremost of which is a heavily stamped passport.
Here's a series of maps, compiled by Moviepilot, of all the countries James Bond has visited over the years:
Image: Imgur
Bond's six incarnations are as such: Sean Connery (1962-1967, 1971, 1983), George Lazenby (1969), Roger Moore (1973-1985), Timothy Dalton (1987-1989), Pierce Brosnan (1995-2002), and Daniel Craig (2006-Present). Brosnan and Moore's Bonds remain the best traveled, having touched down in 18 countries apiece, while Lazenby's single-film run landed him in just three countries, none outside western Europe.  
Considering the bulk of Bond's adventures took place during the Cold War, it's somewhat surprising that only two of the six Bonds have been to Russia. All have graced their British homeland, while none have been to Australia, New Zealand, or anywhere in the South Pacific. Meanwhile, three Bonds have been to the Bahamas, and one made his way into North Korea.
As a supplement, Empire put together a similar map that charts Bond's specific international routes.
Here's a comprehensive list of all 46 countries:
Afghanistan
Albania
Austria
Azerbaijan
Bahamas
Bolivia
Brazil
China
Croatia
Cuba
Czech Republic
Democratic People's Republic of Korea
Egypt
France
Germany
Gibraltar
Greece
Haiti
Hong Kong
Iceland
India
Italy
Jamaica
Japan
Korea
Lebanon
Macau
Madagascar
Mexico
Monaco
Morocco
Netherlands
Pakistan
Portugal
Republic of Kazakhstan
Russia
Slovakia
South Africa
Spain
Switzerland
Thailand
Turkey
Uganda
United Kingdom
United States
Vietnam
Say what you will about Agent 007, but the man definitely gets around. And with new entries continuously under development, it will be interesting to see where he lands next.