86% of NFL Players Give This Answer When Asked if a Teammates' Sexual Orientation Matters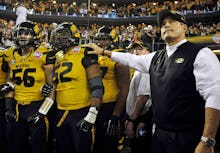 According to an ESPN poll of 51 active NFL players, 86% of players said that a teammate's sexual orientation doesn't matter to them, and just more than 76% said that they wouldn't be concerned with showering around a gay teammate.
But nearly 63% claimed that they had heard a coach or teammate use homophobic slurs last season, just 49% said that a gay teammate would feel comfortable in an NFL locker room, and 41% said that they wouldn't.
ESPN said that this means Missouri defensive end Michael Sam would face a more tolerant, but still uncertain future in the NFL if he manages to make it past the draft. Sam's decision to recently come out of the closet will likely make him the first openly gay NFL player, and he has earned praise as far-ranging as NFL pundits and the president himself. But after his announcement, the reaction was mixed.
It's OK, though. The sports information service powering the rankings said that he was already due for a downgrade.
Meanwhile, various NFL personnel told Sports Illustrated that the league isn't ready for a gay player.
"I don't think football is ready for [an openly gay player] just yet," said a player personnel assistant. "In the coming decade or two, it's going to be acceptable, but at this point in time, it's still a man's-man game. To call somebody a [gay slur] is still so commonplace. It'd chemically imbalance an NFL locker room and meeting room."
"[Being gay] will break a tie against that player [in the draft]," said a formal general manager. "Every time. Unless he's Superman. Why? Not that they're against gay people. It's more that some players are going to look at you upside down. Every Tom, Dick and Harry in the media is going to show up, from Good Housekeeping to the Today show. A general manager is going to ask, 'Why are we going to do that to ourselves?'"
While taking the ESPN poll, an anonymous starting receiver said: "Whoever takes [Sam in the draft] should have an open talk at the beginning of camp, where everybody can ask what he's comfortable with, what offends him, what boundaries there should be. When it comes to race, people already know the boundaries, to a certain extent. But I don't think football players are overly familiar with what can and can't be said around a gay person."
Best of luck to Sam. It's easy enough to answer a question on a poll, but when it comes to actually acting tolerant to a fellow player, the NFL might still have a lot of growing to do.