This Pixar Artist Took Your Favorite R-Rated Films and Turned Them Into a Children's Book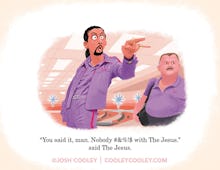 The news: For years, Josh Cooley worked as a storyboard artist at Pixar Animation Studios. His illustrations laid the blueprint for such family classics as The Incredibles (2004), Ratatouille (2007), and Up (2009). But on Feb. 25, he'll try his hand at the publishing game with a new book entitled Movies R Fun!: A Collection of Cinematic Classics for the Pre-(Film) School Cinephile. So far, it looks pretty awesome.
Cooley's book takes a series of iconic scenes, moments, and images from well-known R-rated and adult-themed films, and renders them in his trademark child-friendly style. The result has been advertised as a "hilariously inappropriate" "children's picture book parody for grown-ups." From Pulp Fiction and Fight Club to The Shining and Rosemary's Baby, few classics are spared the Cooley treatment. Here are some excerpts, via Josh Cooley:
Pulp Fiction:
Predator:
Fight Club:
The Blues Brothers:
Alien:
Jaws:
Drive:
2001: A Space Odyssey
The Road Warrior:
The Big Lebowski:
American Beauty:
A Clockwork Orange:
Chinatown:
Goodfellas:
The Terminator:
The Godfather:
Terminator 2: Judgment Day
Rosemary's Baby
The Graduate:
The Professional:
The Godfather, Part II:
The Shining:
The Silence of the Lambs:
Apocalypse Now:
Seven:
The Big Lebowski:
Psycho:
Fargo:
No Country for Old Men:
Die Hard:
Donnie Darko:
Pan's Labyrinth:
Magical movie moments. Two especially disturbing highlights are illustrations depicting the notorious "chest-burster" scene from Alien (1979), and the classic scene in The Godfather (1972) when a character wakes up to find the severed head of his prized racehorse in his bed.
Cooley's book also captures some solid iconic lines to go with his illustrations. Examples include:
"'You want a toe? I can get you a toe,' said Walter. 'Hell, I can get you a toe by 3 p.m. this afternoon, with nail polish.'" – from The Big Lebowski (1997)
"'It rubs the lotion on its skin, or else it gets the hose again,' explained Buffalo Bill." – from The Silence of the Lambs (1991)
"'Yippee-Kay-Yay mother#@&*$$%!' said John McClane." – from Die Hard (1988)
And so on. The children's book parody genre had a major success in 2011 with the now-infamous Go the F**k to Sleep, by Adam Mansbach and Ricardo Cortés. That book even received the Samuel L. Jackson treatment, which one could say should be the litmus test for any future classic. Based on these preview images, Josh Cooley's upcoming work has the potential to be a similar cult favorite down the road. Meanwhile, fans will have to make do with this sneak peak.