This Entrepreneur Thinks Genius Kids Will Save the World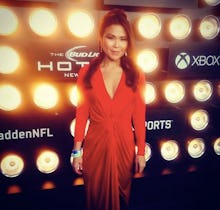 Sixteen-year-old Abigail Harrison from Minneapolis wants to be the first person on Mars. Last year, she traveled to Russia to watch her mentor, astronaut Luca Parmitano, launch on a mission to the International Space Station. She documents her journeys on Twitter and social media via #MarsOrBust2030.
Nikita Rau is a senior at the Bronx High School of Science in New York City. There, she launched the XX Hackers club after graduating from Girls Who Code. She has already built an Android app and been profiled in Fast Company.
Harrison and Rau aren't even old enough to walk into a bar, but they're already pushing our country forward.
America is in the middle of a huge societal shift where young people have unprecedented access to technology and information, as well as the ability to learn about problems and engage in real time. They no longer need to be as lucky as Bill Gates, who happened to have access to a PDP-10 computer in the 1970s on which he learned to program and test ideas. Even so, there is still a huge shortage of teenagers like Harrison, nicknamed "Astronaut Abby," and Rau, who calls Yahoo CEO Marissa Mayer an inspiration.
According to the White House STEM initiative, only 16% of high school seniors want to pursue careers in science, technology, engineering and math.
"This is a serious problem," social entrepreneur and activist Melissa Jun Rowley told PolicyMic. "It's not just about kids. It's about the future of our country."
Rowley is working to push the movement forward by piloting a television show called Magic Makers, which features Harrison, Rau and other teenagers tackling big problems using STEM and Art (STEAM).
She developed the concept after talking to Jack Andraka, a 16–year-old who invented a dipstick-like sensor for the rapid and early detection of pancreatic, ovarian and lung cancers, and has shared his invention on the Colbert Report.
So far, Rowley has cast nine teenagers for the pilot episode of the show, which is being crowdfunded and will be filmed at a New York City public school. "The ultimate goal of this initiative is to devote an entire season to helping one community through STEAM, meaning each episode will revolve around the cast taking on a different challenge," she told the Huffington Post. "Each episode will end with one of the cast members receiving funding to bring their prototyped solution to life and a NYC student receiving a STEM career fellowship."
Rowley says that there's a media problem in how teenagers are often depicted on television, especially in reality shows. She developed Magic Makers to change that perception. "There's so much garbage out there, promoting teenagers as trouble makers," says Rowley, who previously worked as an entertainment reporter. "It's so TMZ-oriented."
She's also developing Magic Makers because she believes that America's education system is deeply flawed. In a TEDxAdventure talk in Panama, Rowley quoted education activist Sir Ken Robinson, who said, "we've sold ourselves into a fast food model of education." Students are being spoon-fed information instead of being taught how to prototype and develop real solutions to big problems.
"The young people I'm bringing together for Magic Makers function without regard for limitations," she told Forbes. "We're not born believing we have limits; we end up learning from society that we do.'