Chevron Caused a Major Gas Explosion in Pennsylvania — This Was Their Damage Control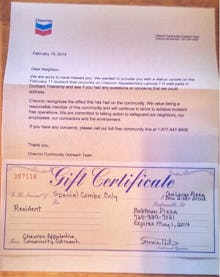 Live near a major extraction operation and worried about a gas explosion setting you, your home, and your various loved ones on fire? Chevron's got you covered with a free combo deal from your neighborhood pizza parlor.
"What?" you might correctly say. Well, your bewilderment would be shared by the citizens of Dunkard Township, southwestern Pennsylvania, where Chevron Appalachia's Lanco 7 H well packs exploded on Feb. 11 around 6:45 a.m., sending literal shockwaves across nearby homes. Local residents told the Pittsburgh Post-Gazette that the blast "sounded like a jet engine going 5 feet above your house." Understandably, many of them were terrifed.
One worker is missing and presumed dead in the blaze. Rescue workers were hampered by extreme heat and flames, which posed a severe threat to the nearby community and took five days to tamper down. Neighbors were terrified that toxins could be released from the flaming rig, which could be heard from a quarter-mile away. For days, local roads were shut down or blocked by emergency vehicles. 
So Chevron thought it was time for a littler damage control. Local residents received the following bulletin in the mail:
That's right — a free large pizza and 2-liter drink! But be quick about it, because the gift certificate expires on May 1.
Following some controversy, Chevron confirmed that they sent out the gift certificates as a "token of appreciation" for the community's "patience during this time." But what really counts about a gift is the thought, which Chevron apparently didn't put much of into this PR measure.
Living near a fracking site isn't just all free pizza and unexpected 6:45 a.m. wakeup calls, though. Philly.com notes that "scores of neighbors have complained about polluted drinking water or foul odors or ailing pets and livestock, of headaches and nausea and skin rashes," while blog No Fracking Way alleges that Pennsylvania gas companies are deducting unspecified "expenses" from gas royalties due to local landowners, sometimes down to nothing at all. (Gov. Tom Corbett, a Republican, is apparently very frustrated with gas companies for going back on their word.) And while your doctor might warn you that eating too much pizza isn't good for your health, in Pennsylvania they're legally required to refrain from informing you that your oozing face lesions could be related to fracking.
Still, I'm sure Chevron Appalachia's Community Outreach team is just doing the best they can. But it's sure a shame the best they can do is proclaim "Let them eat pizza!" and hope no one notices their tacky attempt to lowball their response to a very serious problem.