Gay Russian Artist Says He Won't Let Being Exiled Stop Him From Fighting Putin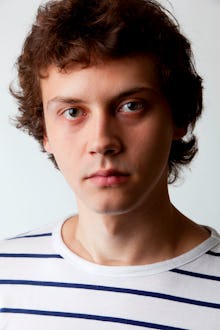 If it were up to 29-year-old Alexander Kargaltsev, a New York-based gay Russian artist, everyone would boycott the Winter Olympics in Sochi: "It should be a political boycott. No officials should go there. No press coverage," he said.
The Winter Games have been controversial, and not just because of shoddy hotel rooms. The months leading up to the games involved vocal protests from around the world condemning the Russia's decision to pass a law banning "gay propaganda" during the summer of 2013.
Image Credit: AP. Vladimir Luxuria, a former lawmaker in Italy's parliament and activist for transgender rights, detained for police during the Sochi Olympics.
Kargaltsev left his home country back in 2010, and he uses his work to respond to the country's persecution of gay rights. He moved to New York City after being awarded a scholarship to the New York Film Academy. He applied for asylum as soon as he arrived in the United States when he was 25 and eager to escape the difficulties he had faced being gay in Russia as well as those he was bound to face as a gay artist.
In an interview with PolicyMic, Kargaltsev said that had he stayed in Russia, he would "only have one choice," which was "to keep fighting and probably be killed, or arrested, or put [in] prison."
"I only have one life. I want to live my own life," he said. "I want to live my real life and I want to make my art. I want to create art as I feel and I have this kind of freedom here," he said.
ARTISTIC FREEDOM UNDER FIRE
According to Kargaltsev, artistic freedom is restricted by the state since much of the budget for the arts comes from the government. "They feel they can just order the music. They feel they can order patriotic kind of content, but it's just awful,"he said.
Writing for Index on Censorship in April 2013, Russian journalist Elena Vlasenko described the rise of self-censorship in not only the art world, but also in the media and other areas. Two topics that are untouchable? The Kremlin and the Orthodox Church.
In 2012, artist Artyom Luskotov was fined 1,000 rubles ($27), and three administrative cases were brought against him for "insulting believers" after creating icon-like images of two members of feminist punk group Pussy Riot.
Vague legislation passed by the State Duma in 2013 made "insulting believers' feelings" punishable by up to five years in prison. It sought to "limit artists' freedom of expression, and encourage self-censorship," according to Vlasenko.
As a result, many artists were driven to move outside the law. Groups like Pussy Riot and the anarchist art group Voina — a guerilla artist group that uses disruptive and controversial street art to make political statements — sought to speak out against the country's restrictions.
For Kargaltsev, being outside of Russia doesn't distance him from its issues. "I always respond with my art, with my photography, with my projects, so I keep fighting," he said.
Now, in New York City, Kargaltsev has found a community of gay Russian refugees, which has been an important inspiration for his work including Asylum, a photo series that features beautiful, naked portraits of young gay refugees in New York City.
Image Credit: Alexander Kargaltsev
He also has an upcoming exhibition of polaroids called Last Polaroids, which features polaroid photos the artist took during his first three years in exile from Russia. He was granted asylum in 2011. 
Through his work, he's responded to high-profile controversies in Russia including Russian socialite Dasha Zhukova's controversial photograph in which she was seated on a chair made to look like a black woman. Kargaltsev shot back at the artist with a photograph of a naked black man sitting on a white man to condemn both the country's racism and xenophobia.
"White Man Chair." Image Credit: Alexander Kargaltsev
After Ikea removed a photo of a lesbian couple from its Russian catalog, Kargaltsev, along with members of Rusa LGBT, staged a "kiss-in" at a local Ikea in Brooklyn.
BEING GAY IN PUTIN'S RUSSIA
Had he stayed in Russia, Kargaltsev would have had to lead a double life.
"You live your day life and your night life. You have to be straight during the day and you can go to the nightclub during the night," he said.
Kargaltsev said that in Russia, he did not have sex education, nor was he exposed to any information about being gay. In fact, until his early teenage years, Kargaltsev thought that he was "the only gay man in the world," which he says was a "huge stress" for him.
He eventually turned to online dating as a way to explore his sexuality. In 2007, he arranged for a date with a man in Moscow's central Mayakovskaya Square. But rather than meeting a date, the artist was greeted by four men who beat him in the public square and bombarded him with anti-gay slurs. He said that he was beaten in plain view, and no one — including passersby and police — did anything about it. Afterwards, he deleted his online dating accounts.
Image Credit: Flickr/Alexander Kargaltsev. Photo from "The Net," a production by Kargaltsev.
LIFE AFTER THE BAN ON "GAY PROPAGANDA"
Life in the closet is the same now as it was before this past summer's ban on "gay propaganda."
"Well, there are lot of gays in Russia who really think that everything's fine. That they can live how they used to live, that nothing really changed," said Kargaltsev. "Yes, they were hiding themselves and they're going to keep hiding themselves. So when you're in the closet, everything's fine. Everyone, the government wants you to be in the closet."
But speaking out about gay rights comes at a price, much like any other kind of dissent in Putin's Russia. However, this particular law has sparked one frightening trend, according to Kargaltsev. "Ordinary people feel free [to] beat gays because of that law," creating a culture of impunity for assaults against members of the LGBT community, he said.
Unlike in the U.S., in Russia, "police won't protect you. There's no point to go to the police."
An extremist group that calls itself Occupy Pedophilia, uploaded horrifying videos of themselves beating and harassing gay people under the pretense of "protecting children." 
Image Credit: YouTube
Kargaltsev says the videos didn't start until after the law.
According to Scott Long at Paper Bird, the neo-Nazis behind Occupy Pedophilia — who have been active for years — also target immigrants and "foreigners." Violence against members of the LGBT community is a part of the wider spectrum of problems.
Even though Kargaltsev says that "the West is overreacting" to the bill, he claims it is a "good reaction" because the attention is shedding light on not only LGBT rights in Russia, but also other pressing human rights issues.
"That law was a mistake; [Putin] didn't expect such a reaction,"he said.
Image Credit: AP. Protest against the "gay propaganda" law in Berlin, Germany.
Kargaltsev says the law also hurts organizations that aim to educate and support the country's LGBT community. While such groups are threatened by the "gay propaganda law," they are also under threat by another law passed last summer that barrs local groups from being financed from abroad.
"They educate people about contraception, they educate people about health, they help people who really need help," said Kargaltsev.
PUTIN'S POPULARITY PROBLEM
Homosexuality was decriminalized in Russia in 1993, but it wasn't removed from the country's register of mental illnesses until 1999. About 74% of Russians believe that homosexuality is not an acceptable part of society.
Still, at one point, Kargaltsev says the country seemed to be making headway on gay rights under former Russian President Boris Yeltsin. "It was much better during Yeltsin's time, actually. It was much more freedom. We had much more freedom. We had open gays on TV, we had open gays on stage, but now it's getting worse," he said.
The artist condemned Putin for feeding into homophobia instead of "educating his own people."
Image Credit: AP. Putin and President Dmitry Medvedev at the Sochi Olympics.
The "harmful laws," says Kargaltsev, create "the ridiculous kind of situation where people start to hate each other. If you're president, how can you support hate among your people?"
But Kargaltsev does not think that the country's homophobia is deeply entrenched; he sees the solution coming from more visibility, as well as education. "In two years, Russia could be the most tolerant country in the world," he said. "Just give me a chance to broadcast, and it's very easy to correct. Very easy to fix."