American Football Could Be an Olympic Sport in 2024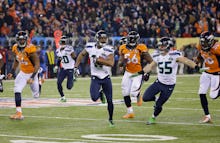 Well, this is a surefire way to make Americans care more about the Olympics.
In December, the International Federation of American Football (IFAF) finally received recognition from Olympic organizers. Though the IFAF has been trying for years to make American football an Olympic sport, it hasn't been likely until now. On Tuesday, the International Olympic Committee (IOC) signaled its willingness to vote on the measure by as early as 2017 — which means American football could be played at the 2024 Summer Olympics.
While it has been a long road for American football to gain international traction, the IFAF currently has 64 member nations from five continents. Now the organization needs to show that there is enough interest and high-quality competition; otherwise, the U.S. would unfairly dominate the game every four years.
The IFAF hopes that American football will follow in the footsteps of rugby, which will appear at the 2016 Summer Olympics in Rio de Janiero for the first time since 1924. Like rugby, American football will have to abide by Olympic regulations and be played in the seven-on-seven format, and feature both men's and women's competitions.
Last May, the IFAF's initial application was denied by the IOC. Officials from both organizations met to discuss how American football can meet Olympic standards. The IFAF then resubmitted its application, earning a provisional recognition that winter.
The new status is a coup for the IFAF, which would receive much-needed promotion and additional funding through exposure at the Olympics.
"You would see more and more leagues and that would generate incremental interest. … It wouldn't open the floodgates per se but the argument would be a lot stronger as far as federations applying for local funding," said NFL official Chris Parsons at the time.
While it will probably be a decade before we actually see American football as an Olympic sport, the IOC's decision may allow the U.S.'s pro players to take the global stage for the first time — and regale the world with their end zone dances. That's something to look forward to.