17 #DangerousBlackKids You Should Watch Out For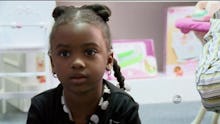 Last weekend, a Jacksonville jury failed to convict Michael Dunn of first-degree murder in the slaying of 17-year-old Jordan Davis. For many, this was not simply a miscarriage of justice, but part of an "American tradition" that criminalizes black youth and sanctions fear-based violence against them.
After the verdict, Jamie Nesbitt Golden launched the #DangerousBlackKids hashtag on Twitter, both as a motion of solidarity and to put this criminalization in perspective. The message was simple: These are just children, feared not for what they've done, but for what people are afraid they might do. Here are some of the images people posted:
These sobering photos are reminders that black kids, like all kids, are born with a clean slate. They should be able to grow without the burden of whatever fear-based notions the world places on them.
So, as a reminder of the potential within all young people, and of what they can accomplish when simply allowed to flourish, below is a sampling of black youth from around the globe who are making the world a better and brighter place. Most of these are drawn from The Root's "Young Futurists 2014" and Forbes' "30 Most Promising Young Entrepreneurs in Africa 2014." May they serve not to divide youth into "good" and "bad" categories, but to celebrate what's possible when they are merely allowed to live.
1. Anala Beevers, 4
The force is strong with this one. At age 4, Beevers became one of the world's youngest members of MENSA, the organization for people who test in the 98th percentile or higher on a supervised IQ test. She learned the alphabet when she was four months old, can name all 50 state capitols, and regularly corrects her parents' grammar. "She is a handful," says her mother.
2. Anthony Halmon, 19
Halmon, a concerned father from the South Side of Chicago, developed the idea for the Thermofier, a pacifier that doubles as a thermometer. He currently attends Cornell University, and hopes to someday work in public policy to affect change in other communities of color.
3. Arthur Zang, 26
Image Credit: Taking on the Giant
Zang invented the Cardiopad, a touch screen medical tablet used for heart examinations. It enables the tests to be transferred wirelessly from remote or rural locations to specialists elsewhere who have more resources to read them. Zang is a native of Cameroon.
4. Barclay Paul, 22
Image Credit: Under35CEO
Paul is the founder and CEO of Impact Africa Industries, a company that produces low-cost sanitary pads for impoverished women in Kenya, Uganda and South Sudan. Fifteen of his company's 23 employees are women.
5. Brianna Patterson, 20
Patterson is the Northeast Regional Director for the National Action Network's Youth Move initiative, which provides training and resources for homeless youth, many of whom have aged out of the foster care system. She studies liberal arts at the University of the District of Columbia.
6. De'Juan Correia, 19
Image Credit: Colorlines
Correia has been an anti-death penalty activist since age 13. With his uncle Troy Davis on death row in Georgia, Correia has spoken before the British Parliament and the Amnesty International Youth Summit. He currently attends Morehouse College.
7. Denzel Thompson, 19
Image Credit: philly.com
Thompson co-founded Philadelphia Urban Creators, an organization that empowers youth, ex-offenders, and underserved communities to "transform blighted urban landscapes into models of community-based, social and environmental sustainability." He is a native of North Philadelphia, and has appeared on Nickelodeon for his work.
8. James Ward, 19
Image Credit: Upworthy
Ward co-founded the Homeless to Howard Foundation, which will become a fully operational nonprofit by spring. The organization aims to make college affordable for other homeless youth. Ward himself grew up living in cars and shelters with his mother and younger siblings, and was the beneficiary of crowdfunding effort that helped him pay for college. He attends Howard University, and hails from Los Angeles.
9. Jasmine Bowers, 22
Image Credit: YouTube
Bowers is a graduate student working to help other young college students gain financial literacy and get out of debt. She speaks publicly, runs workshops, and studies at North Caroline A&T State University.
10. Jeramey Anderson, 22
Image Credit: The Grio
Anderson is the youngest person ever elected to the Mississippi House of Representatives. He is passionate about education reform, and hopes to find news ways to inspire students to learn. He is also an undergraduate at Tulane University, and is slated to graduate later this year.
11. Joel Mwale, 21
Image Credit: BBC
Mwale founded SkyDrop Enterprises, a company specializing in bottling and rainwater filtration, which also produces low-cost drinking water and milk for consumption in his native Kenya. He hopes to bring his entrepreneurial skills into the tech sector next.
12. Leslie Turner, 19
Image Credit: Duke Today
In high school, Turner ran two charities that provided clothing for youth in the Dominican Republic and homeless teens in her native Ohio. Now a pre-med student at Duke, she has worked on a research project developing a cure for Alzheimer's, and hopes to one day work with the organization Doctors Without Borders. She is passionate about public health.
13. Lorna Rutto, 28
Image Credit: Black Enterprise
Rutto is a native Kenyan who founded her company, Ecopost, in 2010. Ecopost collects plastic waste and converts it into plastic lumber, an "eco-friendly alternative to timber … used to manufacture fencing posts," of great use to the nation's agricultural sector.
14. Marcus Benning, 22
Image Credit: Duke Today
A student at Duke University, Benning used a $500 grant to fund the Duke Connects Challenge, an initiative that collected responses from students on how to improve relations between the campus and people in the surrounding neighborhood of Durham, N.C. He also convinced administrators to establish the Black Cultural Living Group, a residential space where students can engage in conversation around issues that affect black Americans. Next year, he plans to enroll in law school.
15. Marvelyn Brown, 29
Image Credit: Hope's Voice
Brown contracted HIV/AIDS at age 19. She went on to write a book about her experiences, then became CEO of Marvelous Connections, her "global HIV consulting organization." She is also an ambassador for the Greater Than AIDS campaign.
16. Shiranthi Goonathilaka, 19
Image Credit: The Root
A student at Spelman College, Goonathilaka recently founded a mentoring organization called B.I.A.S. (Because I Am, I Shall). The organization is geared toward "political awareness, social activism, educational standards and physical and mental health" for young people. She is a biology major.
17. Tafari John-King, 18
Image Credit: YouTube
While still in high school, John-King founded Project GreenUp, a service organization dedicated to environmental sustainability in his Brooklyn neighborhood. The group runs cleanup projects, works at soup kitchens, and helped with Hurricane Sandy relief. GreenUp hopes to build a greenhouse on the roof of Medgar Evers College Preparatory School, where it was founded. John-King is now a freshman at Harvard University.