This Detailed Map of the Internet Drawn to Scale Is Fascinating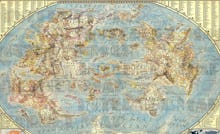 o
Click on the image above to expand, or click here to see the full-resolution version.
From artist Martin Vargic comes this beautiful, ultra-high-resolution fictional map of the internet — scaled using actual from Alexa to rank the top 500 or so websites by traffic in the entire world.
According to Vargic, it took 3 weeks of 10-hour days to create, basing the project off of National Geographic maps. And it's still a work in progress, detailing just a miniscule portion of the entire internet. Here's his explanation of how the whole thing fits together:
"The map is divided into 2 distinctive parts; the eastern continent, 'the old world' showcases software companies, gaming companies and some of the more real-life oriented websites. Western part, 'the new world' is composed from two major continents, northern one showcasing social networks, search websites, video websites, blogs, forums and art websites.
...
The scale between a website's traffic and its size is not exact, but websites are generally portrayed in ratio relative to it."
The final result is mezmerizing, with entire continents representing sectors of the web. To the south in the Arctic permafrost lie the obsolete relics of the ancient web, like Livejournal, Tripod, IRC, Neopets, and the You've Got Mail website. In the southwestern corner of Vargic's world is an entire pornographic cornucopia, ringed on the edges by hotspots of sleaze (online gambling), shattered dreams (online dating), straight-up internet-crime (spam and torrents), and the perverse (god help he who washes up on the shores of hentai).
The northwest is covered with the new web — the ominous and growing empire of Google, flanked by social networks like Facebook, Linkedin, and Twitter. That area is also the sector of the web Vargic dumped online gaming and humor sites like 9gag, which are social endeavors. And across the sea lies the old world, controlled by tech giants like HP, Microsoft, and Cisco. Apple, to the southeast, has its own continent isolated by paywalls and app stores.
It's a strange and beautiful world, and in some ways, as real as our own. You can buy a copy of the map on a 34x22 inch poster from Vargic for $34.70 here.