Watch Colbert School the Media on How to Interview a Trans Woman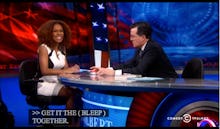 On Tuesday night, Stephen Colbert invited trans activist and writer Janet Mock to give him a brief training on how to interview trans guests. Predictably, the segment was both informative and hilarious. 
Colbert started off by saying, "When it comes to transgender issues, I don't know what to say to these people," and went on to introduce Mock as a "Piers Morgan abuser." Unable to contain her laughter, the trans author could barely keep a straight face. Take a look and try not to burst out laughing.
If you're not familiar, the controversy took place earlier this month when Piers Morgan described Mock as "formally a man" during an interview on his show. The two had a heated Twitter exchange as well as a follow-up (and equally offensive) interview. To add insult to injury, their talk was followed by an all-cisgender panel that debated the validity of Mock's identity. 
Looks like Mock got the last word and Colbert just got the last laugh. Go #TeamMoBert!
What did you think? Let me know on Twitter and Facebook.