Watch Gentrification Happen Before Your Very Eyes in NYC, in 5 GIFs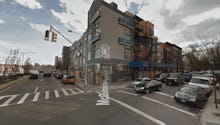 Gentrification has totally changed the face of New York City — and the change isn't just in who lives there. From one end of the city to another, vacant lots and low-rise buildings are being replaced with high-rise condominiums and apartment complexes for New York's burgeoning upper class.
Artist and programmer Justin Blinder decided to capture this process before and after using Google Street View and various cached images featuring the past few years of construction and development, and the results are eye-opening. Former Mayor Michael Bloomberg's legacy is immediately visible, and his impact on local neighborhoods undeniable.
The Vacated project seeks to prompt questions like "Vacated by whom? Why? How long had they been there? And who's replacing them? Are all these changes instances of gentrification, or just some?"
Here's 130 Flushing Ave., Brooklyn (Navy Yard):
11 2nd Ave., Manhattan, NY (the Lower East Side):
11 Bedford Ave., Brooklyn (Greenpoint):
190 India St., Brooklyn (also Greenpoint):
91-93 Bowery St., Manhattan (Chinatown):
Blinder's methodology is nearly as interesting as the stunning images he was able to create. First he found gaps in the city's Department of Planning PLUTO Dataset to identify exact addresses that had been built or altered since 2009. Blinder parsed out sites that weren't located on major intersections, isolating the biggest projects. Then, he mapped those addresses on Google:
The GIFs above were "specifically extracted from neighborhoods where housing costs have increased since 2004." 
Blinder's project was a commission for Envision 2017, "a web-based public art project prompting New York City artists to share their vision of the city's future."