7 Reasons Boston Is Poised to Become Tech Capital of the World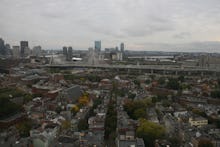 Boston has been the birthplace for many of today's iconic startups. For example, Facebook was famously built in Mark Zuckerberg's Cambridge dorm room; Gilt Groupe, Rent the Runway and LearnVest were started by classmates who met at Harvard Business School. Zipcar, EdX and Trip Advisor still call the city home.
Yet, despite the ideas that get generated within its city limits and it's available venture capital funding, Boston hasn't been so successful in retaining its talent.
The city's new mayor, Marty Walsh, is determined to change this by reigniting Boston's reputation as the "tech capital of the world." In a visit to a local startup workspace, he laid down a challenge for the entrepreneurs there. "I need you to think about how to keep people here in Boston," he said. "They get established and then they leave."
This issue has become an increasingly pivotal topic of conversation as the vibrant hub for innovation slipped to No. 6 on the Startup Genome's 2012 ranking of the world's best region for startups, falling behind Silicon Valley, Seattle and New York City.
In the past two years, however, the startup momentum in Boston has continued to grow, with roots of a resurgence starting to take hold of the city.
A recent TechCrunch article even described Boston's tech scene as being "ripe for an explosion." Below are seven reasons why Boston is poised to be the next "tech capital" of the world.
1. Boston mayor's chief of staff is 29 years old and hired for his media-savvy, tech skills.
When Mayor Walsh chose Daniel Koh to be his chief of staff, everyone was a bit surprised given the 29-year-old's age and limited experience on Walsh's team.
Koh most recently served as general manager of Huffington Post Live, the live streaming arm of the news site, and was brought on to bring a fresh and innovative perspective to Walsh's administration. The fight for the startup movement includes hopes for faster Internet connection, increased investment in tech resources modeled after organizations like General Assembly and supporting incubators and accelerators that help to build necessary infrastructure.
2. The city has a thriving academic ecosystem focused on entrepreneurship
MIT and Harvard are among a number of respected, higher education institutions in the Boston area, many of which promote entrepreneurship in campus culture and curriculum.
For example, Babson University requires students to spend one semester starting their own business; Olin University offers one of the country's premier engineering programs; and Berklee School of Music just opened an entrepreneurship institute to help students develop businesses that fuse art and technology.
Within the past two years, MIT and Harvard have taken a lead in pushing entrepreneurship. MIT engineering students can now get academic credit for learning how to turn their products into viable businesses through a workshop called Start6, and new classes enable students to partner with venture capital firms including Google Ventures and Greylock Partners.
These new developments serve to supplement existing strongholds including the MIT Media Lab, which released its own independent fund for startups in late 2013.
Harvard launched the i-Lab in 2011, an incubation center for more than 70 businesses located adjacent to the business school campus that hosts workshops, runs hackathons and provides many resources for aspiring entrepreneurs, including faculty guidance.
Together, the education institutions in Boston form a formidable presence that continues to evolve and strives to combat the belief that Stanford is the one and only place for entrepreneurs to thrive.
3. There is a current boom in venture capital firms.
In 2013, Massachusetts came in at a cool $5.4 billion for annual funding raised by venture capitalists. This is three times the amount the region raised in the previous year — a big jump even as national funding numbers declined.
Top funding firms like Greylock Partners, Battery Ventures and General Catalyst Partners have a strong presence in the Boston area.
4. There's been an increase of networking events and meet-ups for entrepreneurs in the past year.
The tech world is proven to came in at a cool $5.4 billion with acquisitions and partnerships deeply affected by geographical closeness.
For many years, the Boston innovation community has been scattered, with outcrops in the suburbs, a burgeoning movement in the Seaport District and parallel growth in Cambridge's Kendall Square neighborhood. These once disparate pockets of innovation have gradually come together to form a strong, centralized community.
Boston can now boast nearly 30 incubators and accelerators, including PayPal's Start Tank and the city-backed MassChallenge, with two new WeWork spaces opening just last week. Having space and the proximity to others in the industry has done wonders in creating an electric energy in the region, where networking events and meet-ups have grown tremendously in the past year.
5. Giant companies are expected to rise up to become Boston's "tech anchor" in coming years.
One of Boston's major weaknesses is the lack of a large, thriving tech anchor company.
For example, Seattle has Amazon and Microsoft, San Francisco houses Pinterest and Twitter (and scores of others) and New York has Tumblr. Boston is in need of a monolith.
What looks to the city's favor, however, is the imminent growth of smaller tech companies that are poised to become huge. E-commerce company Wayfair hit an estimated $1 billion in revenue in 2013, Rethink Robotics is building groundbreaking artificial intelligence and HubSpot is a buzzy and fast-growing name in ad tech.
These sleeping giants are expected to explode in the coming years. 
6. Boston has a prospering biotech sector that welcomes future startups in health care.
Boston's life sciences and biotech sectors are the largest in the country and help to lay the foundation for future growth and success in the city.
"The Hub is home to the world's best hospitals — innovative facilities willing to test out new technology," Vinit Nijhawan, managing director of Boston University's Office of Technology Development, told PolicyMic. Not to mention some of the biggest pharmaceutical companies, such as Sanofi, Pfizer and Biogen Idec.
In 2013, 10 Massachusetts biotech firms went public. Several, which are working on synthetic vaccines, gene therapy and nanomedicine were recently invited to attend the World Economic Forum's Annual Meeting in Davos, Switzerland.
7. The people of Boston really, really want it to be the next "tech capital."
Boston is a city that supports its businesses, sports teams and community with the same level of loyal committment and heart. For years, it's had the potential to become Walsh's "tech capital," occupying an awkward in-between space as a city on the verge. 
However, an element that was lacking was a connecting thread between each of these disjointed pieces. That thread, today, comes in the form of a concrete desire and hope from the people who live in the city, including members of the universities, leaders of local companies and the mayor himself, for an entrepreneurial and innovative future.
Buoyed by the passion and spirit of Boston's people, all of these economic, academic and political forces are coming together.
It's finally time.