9 Reasons Cara Delevingne Is the Most Fascinating Model in Fashion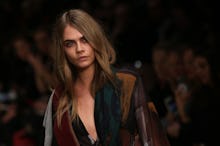 If you haven't heard of her yet, it's only a matter of time until you're introduced to the lovely and preternaturally interesting model Cara Delevingne. At 21, she has already been hailed as the next Kate Moss. Yet unlike Moss, who, despite her ubiquity largely keeps her personality out of the public eye, Delevingne has revealed herself to be a quirky, new breed of fashion model who defies categorization.
On the surface, Delevingne combines tomboy cool, London edge and high fashion chic. But she's also more than that: She's a true character — the type of girl we would die to party with. Here are nine reasons why Delevingne is the most fascinating model in fashion.
1. She's killing the runway game.
Though only 5 foot 8 inches (short for a model), Delevingne has made herself widely known for her thick eyebrows and luscious pout. So its not surprising that she has been the face of major brands like Burberry, Yves Saint Laurent, Zara and Chanel, and has walked in almost every important show ranging from high fashion staples like Oscar de la Renta and Fendi to the widely-popular Victoria's Secret show. 
2. She has a colorful socialite upbringing.
Despite her wacky antics and street style, Delevingne is no stranger to high society. Delevingne's father is an über-wealthy property developer. She knows about climbing through hardship, too: Her mother is a former heroin addict who now helps dress Kate Middleton.
3. She dates Michelle Rodriguez.
Though previously linked to Harry Styles, One Direction member and heartthrob extraordinaire, Delevingne now dates actress Michelle Rodriguez of Fast and Furious fame. The two have been seen canoodling at a Knicks game, paintballing and receiving IV-drip hangover cures together.
Though the media had previously reported it as a friendship (and it's worth noting that if either party were male, the media most likely would have immediately jumped to call it a love match) Rodriguez confirmed their relationship on Tuesday. She told the Mirror: "It's going really well. She's so cool. When we started hanging out I just thought she was awesome, and we have the best time together. She's hard though. You wouldn't want to mess with her in a fight." 
4. She's best friends with Rihanna.
God knows how they met, but ever since they did the hard-partying duo has been spotted having fun together many times. They sat courtside at the Nets game, spent New Years Eve 2014 with each other and Delevingne even visited Barbados, Rihanna's home country, with the singer. We can only imagine that their time together is awesomely debaucherous.
5. She uses Instagram like she invented it.
Delevingne, who boasts 4.4 million followers, posts regularly to the photo sharing network, giving us plebs an insight into her wacky and wild life. She has plenty of hilarious photos interspersed with proper modeling pics, and has even has taken videos while walking the runway — a first in the intersection of fashion and social media.
6. She wants to do more than model.
While she's obviously fabulous on the runway and in print, Delevingne has her eyes on set on other gigs like acting, singing and designing. She had a small role in 2012's adaptation of Anna Karenina and is set to star in the upcoming British film, Kids in Love. 
"Modelling is a great job, and I appreciate everything it has brought me, but it's not my passion," she said. "As far back as I can remember I've wanted to act ... Acting is the opposite [of modeling]. You can't be aware of the camera at all."
Girl can sing, too. Watch her duet with British singer Will Heard: 
As if that weren't enough, on Feb. 16 it was announced that Delevingne would codesign a handbag collection for the famed British brand Mulberry. By our count, that makes Delevingne a quadriple threat. 
7. She loves onesies.
Google "Cara Delevingne onesies" and you will be treated to the supermodel donning full-body pjs of all species: tigers, monkeys, mysterious purple dragons, pandas and even hot dogs. 
8. She has dope tattoos.
Unafraid of the judgmental eye of fashion designers and editors and much to the chagrin of photo retouchers, Delevingne sports multiple tattoos. These include the phrase "Made in England" on the bottom of her foot and a lion on her finger. 
9. Despite it all, she's down to earth.
She was recently asked what it was like to be her, at this moment. She replied, "I don't know — I have no idea. I haven't really had time to take anything in. I think when I stop and think about it, it just confuses me more and more. I can't really process it all that quickly."
In the same interview, she admitted that being a style influence "weirds [her] out," adding, "People say very weird comments to me about what I've done, and I'm like, 'Really?' That doesn't sound right. In my mind it's very different to what people see."