16 Celebrities You Probably Didn't Know Were Jewish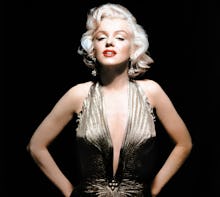 Some of these celebrities were raised Jewish and some converted, but for all or most of them, their Jewish faith is certainly not the first thing that comes to mind.
1. Marilyn Monroe
The famous actress was not raised Jewish, but she converted to Judaism when she married Jewish playwright Arthur Miller in 1956.  
2. Sammy Davis Jr.
The comedian, actor, dancer and singer was part of the Rat Pack with Frank Sinatra and Dean Martin. He was raised Catholic, but in 1954, while he was recovering in the hospital after a serious car accident, he began studying Judaism. He converted a few years later.
3. Elizabeth Taylor
When the actress was 27 years old, she converted to Judaism at Hollywood's Temple Israel. She went on to become an advocate for various Jewish causes. When she died, the Washington Post wrote, "Israel lost one of its best friends in Hollywood."
4. Jennifer Connelly
The actress's mother, Ilene, is Jewish and was brought up Orthodox. Her father was Irish Catholic. Speaking about her half-Catholic, half-Jewish background, Connelly has joked that she was "raised with a double dose of guilt." 
5. Drake
Canadian recording artist Aubrey Drake Graham has a Jewish mother. She raised him in a heavily Jewish neighborhood in Toronto and he attended Jewish day school. He also had a bar mitzvah, a Jewish rite of passage and celebration of entry into adulthood. 
6. Elizabeth Banks
The funny girl was not raised Jewish. But she went through some steps to convert for her husband, Max Handelman, whom she met on the first day of college at the University of Pennsylvania (she graduated magna cum laude.) 
7. Isla Fisher
The Aussie redhead is another funny girl who converted for her husband, Sacha Baron Cohen, famous for his role as "Borat." 
8. Gwyneth Paltrow
Paltrow's paternal great-great-grandfather, whose surname was "Paltrowicz," was a rabbi in Poland. Some would not consider her truly Jewish, as Judaism passes through the matriarchal line. But the actress has said that she plans to raise her two children Jewish. She did name her son Moses, after all.   
9. Rashida Jones
The beautiful young actress is the daughter of music mogul Quincy Jones. Her mother is Jewish, with roots in Russia and Latvia. Though Jones stopped attending Hebrew school at age 10, and was not bat mitzvah-ed, she has stated that she practices Judaism today. 
10. Scarlett Johansson
The bombshell's surname name comes from her father's Danish side, but her mother, Melanie Sloan, is of Ashkenazi Jewish descent. Sloan raised Johansson with a basic observance of Shabbat and the high holidays. 
11. Lenny Kravitz
The musician's father came from a Russian Jewish family, with roots in modern day Ukraine. When Kravitz was 5 years old, his mother told him, "You are just as much white as you are black, just as much Russian Jew as you are African-American."
12. Daniel Day-Lewis
The Oscar-winning actor has a Jewish mother, English actress Jill Balcon. Her grandparents immigrated to England from Latvia and Poland. 
13. Dianna Agron
The young Glee star's father came from a Jewish family, and her mother converted. Agron was raised Jewish; she attended Hebrew school and had a bat mitzvah. 
14. Rachel Bilson
The teen dream actress of The O.C. has a Jewish father. 
15. Jake Gyllenhaal
The actor's mother, screenwriter Naomi Foner Gyllenhaal, is from a Jewish family in Brooklyn, and Gyllenhaal has said that he considers himself Jewish. His sister Maggie said that the family celebrated Jewish holidays growing up. 
16. Ivanka Trump
No, Ivana and Donald are not Jewish. But the oldest Trump daughter converted to Judaism in 2009 in order to marry her now-husband Jared Kushner. The two married a few months after her conversion was complete, in an Orthodox ceremony at the Trump National Golf Course in New Jersey. 
Image Credit (all): AP
***
READ: The Struggle to Understand What It Means to Be Jewish in America Today